"Some people have hair that listens," celebrity hairstylist Ursula Stephen tells me as I settle into the chair at her eponymous shop in the heart of the Fort Greene neighborhood of Brooklyn, N.Y.
"If the hair resists, you up the intensity," she says.
That's a formula Ursula knows well. She's been upping the game for Instagram-worthy hair at mega events like the Met Gala; she worked with superstar Rihanna, model Jourdan Dunn and actress Zendaya, the latter for whom Ursula created the Joan of Arc, "shock of ginger" look that ruled the red carpet. This time it's me in Ursula's chair, and my hair is about to listen as the style whisperer begins my requested "date-night hairdo."
Ursula, who did my hair upon the invitation of Suave so I could try out their products, grabbed a can of Suave's Natural Hairspray, parting off a section of my clean, dry hair—I'm wearing a wavy, lace-front wig for the session. Liberally spraying the hair from root to ends, Ursula asks me, "Notice anything?" I think for a second, then it hits me: I don't smell anything at all. I touch the shaft of hair that's been sprayed; it feels dry, nothing sticky at all like hair spray normally would be.
G/O Media may get a commission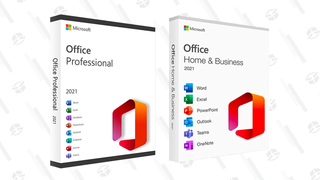 89% off
Microsoft Office Professional 2021 Lifetime License
As she works her way around my head in sections, I'm spared what I call the "hairdresser high." I'm sure you've experienced inhaling chemical cocktails of products swirling together in a cloud of complex cosmetic odors, leaving you lightheaded. It's what I think makes a lot of hairdressers a little crazy, which is maybe why they tend to be fun people. Suave Natural Hairspray comes in two holds, Natural Smooth and Natural Hold. Ursula says: "Right now, we're using Natural Hold."
Let's see if this hair listens ...
Ursula moves quickly around my head with the precision of a pit stop mechanic, curling and twirling the 2-inch barrel iron while she gives me the lowdown for speed styling on set. For her client Zendaya, who likes little to no heat on her hair, a "dry wet set" with Suave Captivating Curls mousse was the magic bullet. Zendaya arrived on set with air-dried hair. Ursula would flat-iron or blow out Zen's hair to prep for a roller set with mousse.
"One of the characteristics of mousse is that it dries fast," she adds, which allows for using a portable hood dryer for 20-25 minutes, as opposed to the hour typically needed to go from wet to dry with a roller set.
When Ursula, who is also a wigmaker, rocks her own full lace-front wig, she uses a "dry roller set." It's her one go-to styling trick.
"Midweek when my wig starts getting flat and I want to look like a 'Tubi Dominicano,' that's how I refresh my wig. I look like I came straight out the Dominican spot," she says. New York Dominican salons are famous for creating extraordinary roller sets that move like a blowout and last for days.
"We've been labeled 'Urban Posh,'" Ursula says, later telling me the typical client at her full-service salon spends around $100 for a shampoo followed by steam deep conditioning with styling. "Fly girls and their moms come here. We have chic, trendy working-class women and avant-garde, artist-type women, too."
Born and bred in Brooklyn, Ursula said she knew from the time she was in high school that her salon "would have to be right here in the most diverse part of Brooklyn."
Ursula is celebrating her fifth year as a shop owner and a 40th birthday, and she is happy in her skin. How often does she wash/condition her pixie-cut hair? About once a week with Suave Almond + Shea Butter products. She puts a squirt of shampoo in my hand to show off its creamy, nondrying texture: It feels like body lotion. Ursula recommends deep conditioning biweekly.
"What you can do to up the intensity is go to your cabinet and add a few ounces of olive oil to Suave's Almond + Shea Butter Moisture Mask," she says, adding that you can mix it in your hand at the time you're washing your hair for best results. Ursula says she's relied on Suave's Almond + Shea Butter shampoo and conditioner—which are paraben- and alcohol-free—for years to ensure the health of her clients' hair, both chemically treated and natural: "For curly-hair girls who use so much product—like a bottle of conditioner at a time—it's budget friendly," she says.
This is good news for a girl who has her financial head on straight.
You can check out Ursula Stephen the Salon at 66 Lafayette Ave. in Brooklyn, N.Y.