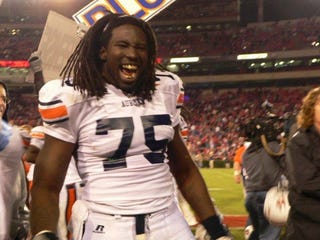 Former Auburn University defensive end Stanley McClover told HBO's Real Sports With Bryant Gumbel that he received thousands of dollars in violation of NCAA and SEC rules while being recruited by or playing for the Tigers. He says he received perks including $7,000 from an unidentified Auburn booster for a 1973 Chevrolet Impala and received sacks of money, typically $300 or $400, after games. Then there were the four bags totaling $4,000 after his four sacks in a game against Alabama in 2004, when he was first-team all-Southeastern Conference.
McClover also said he got cash during "money handshakes" with LSU and Michigan State and received "sexual favors" while being recruited by Ohio State.
Two other players — offensive lineman Chaz Ramsey and defensive end Raven Gray — gave similar stories to HBO, including that they sold tickets meant for family or guests. But the schools involved have adamantly denied the allegations, and there are also teammates who say the whole story is "bogus" and that McClover is "a damn storyteller."
NCAA spokeswoman Stacey Osburn declined to comment. The NCAA typically does not comment on potential or ongoing investigations (and Auburn is already under investigation).
It will be some time before what really happened is sorted out, but allegations raise some questions that go beyond McClover and Auburn. Do schools need to get serious about cracking down on these types of transactions? Or should the rules change to allow college athletes to be openly compensated (in cash, not sexual favors!), given all the money and prestige their skills bring to the schools they represent?
Read more at USA Today.
In other news: Jada: Willow Is Creative, Not 'Too Grown.'
Like The Root on Facebook. Follow us on Twitter.