One California middle school will seriously have to consider how it edits yearbooks after the n-word made it onto the cover of the school's yearbooks.
According to CNN, the racial slur appeared on a historical map of San Diego County that was chosen by book editors and staff at Black Mountain Middle School. However, the school is insisting that it was an honest mistake.
"In using an historical map from the 1800s of northern San Diego County, our staff and yearbook editors inadvertently used a background image for the cover of this year's yearbook containing a highly offensive racial term," Principal Charan Kirpalani wrote in a letter to parents. "This was a reference to an area of San Diego County on Palomar Mountain, which was once known as the home of a freed slave, and referred to with a very derogatory label."
That freed man was Nate Harrison.
At any rate, according to NBC San Diego, it was eighth-grade students—who first received the yearbook—who also first noticed the slur on the map that was used as the yearbook's cover and brought it to officials' attention.
G/O Media may get a commission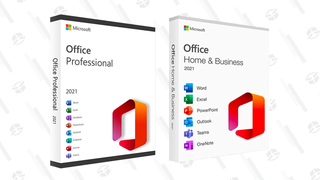 89% off
Microsoft Office Professional 2021 Lifetime License
The books were then collected to be corrected.
"Approximately 1,000 yearbooks then were corrected," said Christine Paik, the Poway Unified School District communications director. "Literally, staff went through each yearbook and scratched off that word from the cover so that we can get these yearbooks in time to our kids."
The corrected yearbooks were then distributed to the students on Wednesday, but not everyone is satisfied, honest mistake or not.
"It's not appropriate in an eighth-grade yearbook. It's unfortunate," Darlene Willis, with the Concerned Parents Alliance, told NBC San Diego. "We just have to all be more conscious of paying attention and checking and double-checking and triple-checking to make sure it's not offensive to folks, and the current language they have is offensive.
"We've got some work to do," Willis added. "I think this is the perfect opportunity for the school district to do more cultural sensitivity and make sure that those folks that are in charge of things like this, that they read and reread, double-check, triple-check so that doesn't happen again. Not in 2017. We can't go back again in time."
Another parent, Deonte Holloman, told KGTV that he hoped the school would reprint the cover, but the school district said that would not happen.

"No, the yearbooks are not being reprinted. The cost to reprint the books with Jostens would have been $36,000 and the students would not have been able to get their yearbooks in time by the end of the year," the district said in a statement. "We realized how important it was to our students to get their yearbooks ASAP, so removing the word from the cover was the best solution. ... The school will be reviewing procedures when it comes to editing the yearbook."