It is no secret that "African-American women are the largest group of readers in the country," states Dawn Davis, head of Simon & Schuster's 37 Ink imprint. It is also no secret that the publishing world is very, very white, with books by black authors published at an abysmal low, never rising above 10 percent of the industry's output. Indeed, a recent survey by Lee & Low publishers found that "just under 80 percent of publishing staff and review journal staff are white," with "Black/African Americans [at] 3.5 percent."
Beyoncé's Feminist Anthem "Run the World (Girls)" A Decade Later
But even with such conditions, key figures such as Chris Jackson, Dawn Davis and others have shepherded books by black authors through their fellow gatekeepers and to the public. Other organizations, like Cave Canem, the Kimbilio Center for African American Fiction and the African Poetry Book Fund, support black literature by offering writing retreats, workshops and small-press publishing opportunities. Here are some of the wonderful titles by black authors that readers of all tastes can look forward to in 2016.
Novel Highlights

In fiction, Darryl Pinckney offers Black Deutschland, the story of a gay African-American man who escapes his troubles in Chicago to seek refuge in 1980s Germany. The Castle Cross the Magnet Carter, from playwright and TV writer Kia Corthron, is an ambitious, brilliantly executed tale of race and family across generations. There is also the latest installment of Rachel Howzell Hall's Los Angeles-based Elouise Norton mystery thriller series, Trail of Echoes, which comes out in May.
G/O Media may get a commission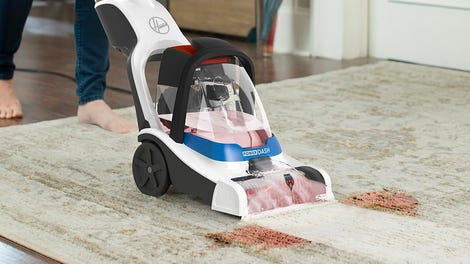 26% Off
Hoover PowerDash Pet Compact Carpet Cleaner
Literary legend Terri McMillan publishes a new book in June titled I Almost Forgot About You, the story of Dr. Georgia Young, who one day decides that there's more to life than what she has been doing—and decides to go find it. There is also The Underground Railroad, a novel from acclaimed author Colson Whitehead, which will be published in September. And in April, Diane McKinney-Whetstone is giving us Lazaretto, her fictional account of race, lies and murder that rock the close-knit community of the island-based Lazaretto quarantine hospital. In May, from Afro-Caribbean British writer Yvette Edwards, comes the riveting novel The Mother, which explores how one mother copes with the murder of her son—and the courtroom drama of the trial that follows.
Six strong fiction debuts from black American women are a high point of 2016. In June, Los Angeles-based writer Natashia Deon gives us Grace, a tale of the love between a mother and daughter set against American slavery and emancipation. Desiree Cooper's Know the Mother, out in March, explores race and motherhood in a series of interconnected vignettes. Jamaican-American writer Nicole Y. Dennis-Benn crafts a tale of unforgettable Jamaican women fighting for selfhood and independence in Here Comes the Sun, due out in July.
Cole Lavalais pens a tale of love, redemption and self-discovery on the campus of a historically black college in Summer of the Cicadas due in the spring. In We Love You, Charlie Freeman, out next month, Kaitlyn Greenidge has created an absurdist social commentary on race in the form of an African-American family paid to adopt a chimpanzee as a member of their family and be observed by a scientific research institute during the process. And Fabienne Josaphat's novel, Dancing in the Baron's Shadow, is the riveting tale of a man trying to save his brother from unjust imprisonment during the brutal regime of Haitian dictator François Duvalier in 1965.
Memoirs, Biography, Essays and More
Nonfiction is equally strong. Memoirs from literary powerhouses Roxane Gay and Kiese Laymon, both meditating on blackness and the body, arrive in June. In Hunger: A Memoir of (My) Body, Gay discusses her relationship with food, body image and self-care, a memoir couched in her usual honesty, vulnerability and depth of observation that have endeared her to so many readers. Laymon's memoir, titled Stank: A Fat Black Memoir, is replete with his trademark wit and astute analysis. Out now is All Jokes Aside, a memoir by Raymond Lambert and Chris Bournea, which explores the rise of the African-American comedy scene centered at Lambert's club.
April brings Kill 'Em and Leave: Searching for the Real James Brown and American Soul, a nonfiction work from 2013 National Book Award winner James McBride. Here, McBride turns his considerable talents to biography and explores the life of James Brown—from his birth into a Southern sharecropping family to musical success—against a backdrop of racism in America. A collection of essays on race called—in homage to James Baldwin—The Fire This Time: A New Generation Speaks About Race, edited by Jesmyn Ward, will be released in August. The South Side: A Portrait of Chicago and American Segregation, by Natalie Y. Moore, coming out in March, is a particularly timely and necessary work. New York Times Magazine contributor Rachel Kaadzi Ghansah is the author of the forthcoming The Explainers and the Explorers, an in-depth look at fearlessness and black art.
Voices From the Motherland  
African writers are well-represented this year. In March, Nigerian writer Chris Abani gives us his memoir, The Face: Cartography of the Void, as part of a new series from Restless Books. Also in March comes fellow Nigerian writer A. Igoni Barrett's allegorical, Kafka-inspired novel Blackass, the story of a Nigerian man who wakes up one day to find that he has become a white man. Another Nigerian writer, Jowhor Ile, has released his highly anticipated debut novel, And After Many Days. And acclaimed Nigerian-British novelist Helen Oyeyemi brings us a collection of short stories—What Is Not Yours Is Not Yours—this March.
In The Maestro, the Magistrate & the Magician, Zimbabwean writer Tendai Huchu explores the lives of three Zimbabwean transplants to Great Britain. In Homegoing, out in June, Ghanaian-American writer Yaa Gyasi crafts a sprawling, epic tale of two 18th-century half-sisters: one safe in Ghana, the other sold into slavery in America. Sudanese writer Leila Aboulela's The Kindness of Enemies is an exploration of contemporary Muslim identity.
In June, Moroccan writer Fouad Laroui brings us The Curious Case of Dassoukine's Trousers, a linked-short-story collection that won the Prix Goncourt de la Nouvelle, France's most prestigious literary award. Another acclaimed Moroccan writer, Tahar Ben Jelloun, gives us The Happy Marriage, the story of a marriage told from the differing perspectives of husband and wife. The Queue, by Egyptian writer Basma Abdel Aziz and translated by Elisabeth Jaquette, is a dystopian novel exploring the aftermath of political upheaval.
Words in Verse

On the poetry side, in April comes Jamaal May's The Big Book of Exit Strategies, his second collection of poetry. Kevin Young has given us his collection Blue Laws: Selected and Uncollected Poems, 1995-2015. Ethiopian writer Mahtem Shiferraw's Fuchsia, winner of the Sillerman First Book Prize for African Poets, explores themes of identity and translation. This year, literary heavyweight Kwame Dawes will be releasing a new collection of poetry, The City of Bones; a new Spanish translation of his book Vuelo; and, in April, a compilation of his poetic correspondence with the poet John Kinsella, titled Speak From Here to There. Chris Abani and Dawes also edited Tatu, a collection of contemporary poetry by African poets due out in the spring, as part of their yearly New-Generation African Poets Series.
But these books are just the tip of the iceberg. And as the publishing industry becomes more diverse, we will hopefully have even more titles by black authors to choose from in the coming years.
Hope Wabuke is a Southern California-based writer and a contributing editor at The Root. Follow her on Twitter.