Each day I live, I want to be
A day to give the best of me.
I'm only one, but not alone
My finest day is yet unknown ...
"One Moment in Time" was the official theme song of the 1988 Seoul Summer Olympics in South Korea, memorably sung by the incredible Whitney Houston. At last week's 2018 U.S. Figure Skating Championships, second-generation figure skater Starr Andrews (daughter of retired skater Toshawa Andrews) made her own unforgettable moment, taking over the vocals of the legendary song as she took over the ice, performing an almost flawless free skate that left both the audience and 16-year-old rising star (pun intended) in tears.
While Andrews' scores weren't enough to score her a slot in the upcoming 2018 Winter Olympic Games in South Korea, we will undoubtedly be watching her in years to come—if she doesn't score a recording contract first. She seems destined to become part of a growing legacy of black skating phenoms like Debi Thomas, Surya Bonaly and Tai Babilonia—whose lucky earring has been passed down to Andrews.
G/O Media may get a commission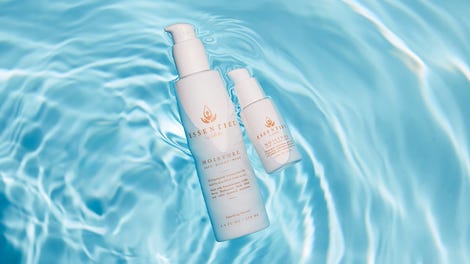 20% off
Essentiel by Adele
But here's one to watch on the ice at this year's Winter Olympics: Speedskater Erin Jackson just became the first black woman in history to qualify for Team USA's long-track speedskating team, a feat she accomplished with only four months of training on ice. This honor builds upon the 25-year-old's 15 years of experience as an in-line and roller derby skater; she is also a member of Team USA Roller Derby, and was named the best roller-sport female athlete in 2012, 201, and 2015.
As for her transition to the ice, she told NBC: "I know I've been improving quickly but I never would have expected this. It's pretty cool. There's still just a lot going on in my head. I haven't really processed it yet."
Jackson's slogan is #iceicebaybee; you can support her already historic Olympic journey by purchasing one of her branded tees on her website.
Of course, Jackson is not the first black woman in Winter Olympic history to qualify for a Team USA speedskating team. That honor belongs to 17-year-old Maame Biney, who qualified for the short-track speedskating team in mid-December 2017.
The Ghanian-born Biney began her career on the ice as a figure skater who switched to speedskating upon the advice of her trainer. She just made her debut on the World Cup circuit in the fall, quickly clinching her Olympic slot with double 500-meter wins at the Olympic trials.
But the ice doesn't just belong to the athletes. In a very special Instagram #ThrowbackThursday yesterday, Emmy and SAG Award-winning actress Uzo Aduba (Orange Is the New Black) revealed own talent on the ice in a vintage video. Costumed as Dorothy from The Wizard of Oz and skating to Elton John's "Goodbye Yellow Brick Road," her accompanying caption was written in tribute to her former figure skating coach and choreographer:
Everything I am is because of the incredible support, guidance, & encouragement I was given along the way. I hope every kid gets to have a Donna Rozon(choreographer) & Roland Bessette(coach) to help shape their journey for the better. I thank you both.
Who knew this already multitalented actress and singer also has a history in figure skating? (A tipoff might've been her pro-hockey-playing brother, Obi Aduba.) But her message isn't lost on us: The ice might not be the usual place you expect to find #BlackGirlMagic, but from the looks of these ladies, it's still a great place to cultivate #BlackExcellence.