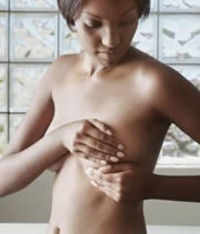 There are new breast cancer guidelines that are pretty decent, assuming you're not a Black woman.
If you are a Black woman, you should really, really think twice about what U.S. Preventive Services Task Force have revised with regard to mammography. From NewsOne:
"

After reviewing data and weighing the potential risks of mammography against the benefits, the USPST now recommends that women begin getting regular mammograms at age 50 rather than at 40, and that the frequency be reduced from annual to once every two years. So what does this sweeping change in policy mean for Black women — who have the highest breast cancer death rate of any race, are at increased risk for developing the diseases at younger ages, and are disproportionately prone to an extremely aggressive form of breast cancer?

"These new recommendations could have a devastating effect on African-American women," said Marissa Weiss, M.D., director of Breast Radiation Oncology and director of Breast Health Outreach at Pennsylvania's Lankenau Hospital.

Weiss, who is also the founder of leading online resource breastcancer.org, believes that given the unique impact of the illness on black women, USPST's recommendations could prove disproportionately harmful.

"African-American women are more likely to get breast cancer than white women when they're under age 40," she said.

Indeed, the U.S. Department of Health reports that Black women ages 35 to 44 have a breast cancer death rate more than twice that of white women in the same age group.

"These guidelines that would start screening at age 50 would pass over the time of greatest risk for African-American women," said Weiss.

But age doesn't pose the only problem — the particular type of breast cancer many black women are diagnosed with brings its own set of serious concerns."
Read the rest of the article on NewsOne
The Buzz is sure the revisions are reasonable and logical BUT if you're a Black woman, it doesn't seem like a great idea to follow them.