(The Root) — Tuesday night was legendary. It was sad. It was sweet and ratchet. And another hamster expired.
Prince on Jimmy Kimmel Live! (Tuesday, 12 a.m. ET; ABC)
"The one, the only, Prince." —Jimmy Kimmel
Highlights: On Jimmy Kimmel's show, Prince was like we like him — looking crazy and sounding great. He wore a tasseled, metallic, animal-print jacket and yellow pants while singing an ode to rock music called "Rock N Roll Love Affair." Of course, he didn't disappoint. Maybe it's good he wore his metallic and yellow; they really shone under the lights when he closed out the show with "Dance Electric."
Watch it here.
The New Normal (Tuesday, 10:30 p.m. ET; NBC)
"God bless you little one, we'll see your little furry face in the afterlife." —Rocky
G/O Media may get a commission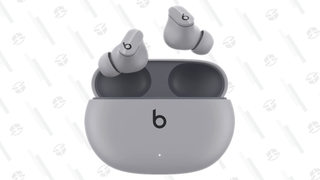 "Testify, girl!" —Rocky
Highlights: When the issue of their relationship beyond the baby's birth comes up, Shania invites Bryan and David to be the baby's godparents. They politely decline but dive deep into thought about why they can't guide Shania down a spiritual path — they're gay, they're not religious, etc. When Shania's class hamster Marshmallow dies — and this is not the first hamster to kick the bucket this week — Rocky steps up to provide spiritual guidance, because every little princess needs a little spiritual guidance. Hamster funerals are the new baptism, haven't you heard?
Benji (Tuesday, 8 p.m. ET; ESPN)
"He does represent a dream unfulfilled, and that's a hard pill to swallow." —Scoop Jackson
Highlight: Seventeen-year-old Ben "Benji" Wilson is remembered as one of the best basketball players to ever come out of the Chi. He was expected to go pro until he was murdered, after bumping Billy Moore and failing to say, "Excuse me." Friend R. Kelly and foe Billy Moore are two of the many voices in this tragic tale that aired last as part of ESPN's 30 for 30 series of documentaries.
Watch the trailer here.
Keyshia and Daniel: Family First (Tuesday, 10 p.m. ET; BET)
"Gib is everything that I prayed for. I really appreciate the fact that he loves his family as much as I love mine." —Keyshia
"It was just absolutely amazing. Everyone was having a good time, especially Frankie, who was somewhere, you know, enjoying her time." —Keyshia
"It's very important to cut loose sometimes. Shoutout to my daughter." —Frankie
Highlights: Keyshia and Daniel are so in love. Hence "Love" is the title of Tuesday's episode. We were left wondering how the wedding went in the first episode, and now we know. It was ratchet and sweet, as expected. Keyshia looked beautiful in her wedding dress and blue reception dress, and Frankie danced around doing some strange dance that looked like it wanted to be the butterfly. Everything's great until Daniel, who plays for the Cavs, injures his foot in a game.
Celeste Little is an editorial intern at The Root.