When 23-year-old Tyler Mitchell captured Beyoncé for the September 2018 issue of American Vogue, it was a historic moment as he became the first black photographer to be granted a cover in the magazine's 125-year history. Now, history is being made again, this time by 26-year-old Nadine Ijewere who, with the January issue of British Vogue, becomes the first woman of color to photograph a cover.
It is yet another wave in a sea of changes visible at the publication since Edward Enninful debuted his first issue as editor-in-chief in December of 2017. (Notably, British Vogue also has a black woman as its publishing director, Vanessa Kingori.) Since Enninful's appointment, American Vogue's English sister has seen a remarkable increase in diversity, including approximately half of its 13 covers since last December graced with women of color. This includes a history-making appearance by Rihanna as the first black woman to appear on its coveted September issue.
That sea change has now made its way behind the lens. Ijewere, who is British-born of Nigerian and Jamaican descent, was headed toward a career in medicine when she decided to take photography as a first-year college elective, as she told British Vogue. She fell in love with the craft, eventually opting to major in photography at the London College of Fashion.
And even then, Ijewere was already honing her style. As she told the magazine:
[W]hile I completely respected the glossier images that were popular at that point, that style felt quite distant from what I was keen to do ... Even back then, I had no desire to produce work that would get me a job in the industry if it failed to speak to me. I also felt like so many images that I was seeing celebrated the same kind of "look" over and over again. It was during my final year that I started casting mixed-race girls who fell outside the industry norm—and that became central to my work.
G/O Media may get a commission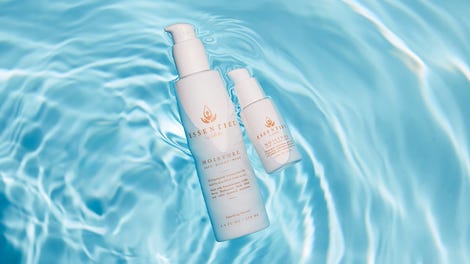 20% off
Essentiel by Adele
Like many artists of her generation, Ijewere tells Vogue that social media—especially Instagram—has been vital in developing her career, including meeting collaborators, casting models and gaining the attention of the fashion and art industry.
"In the beginning, I posted all of my work online—and gradually people started to take notice," she said. "At the same time, it's so easy to get caught up in what everyone else is doing when you're always scrolling through your phone. I just try to remember that there's a marked difference between social media and real life. It's important to stay focused on your own goals and protect your art."
Refreshingly, through hiring a woman of color who has specialized in photographing people of color, British Vogue recruited Ijewere to capture Anglo-Albanian singer Dua Lipa for their January cover, aptly titled: "The Future Issue" (Black Panther breakout star Letitia Wright and mixed-race model Binx Walton also appear in the cover story).
Ironically, Ijewere's spread is slightly reminiscent of what Mitchell, her history-making counterpart, did. Again, there are the draped cloth backdrops against blue skies and grassy fields, not at all unlike the outdoor settings we saw Beyoncé posed in. Maybe it's just something the new guard is into these days, but it has the larger effect of reminding us this is fresh energy coming our way.
As for Ijewere, she tells British Vogue she hopes her history-making—and career-changing—moment signals a continued shift toward diversity in the fashion industry:
I still find it hard to believe. Even a couple of months ago, I was saying that I hoped to work for Vogue some day, but I thought that dream was years and years away from becoming a reality. Beyond what the shoot has done for my career, it means a lot to me on a personal level. When I was studying, there were virtually no female photographers of color in this industry. I feel like in doing this I'm proving to younger girls from a similar background that it's achievable. ... As a girl, I never identified with anyone in the pages of magazines. Now, we're sending a message that everyone is welcome in fashion. There are so many different types of beauty in the world. Let's celebrate them all!