Bad Brains
Back in the early '80s, Bad Brains made a name for themselves by melding punk with reggae. Today, these pioneers of hard-core punk continue to thrill audiences and their influence on a gang of bands has stood the test of time.
Captions by Rob Fields
Living Colour
''When they play together, I'll put them onstage with anybody, in any genre of music,'' cultural critic Greg Tate said to me, and I agree. Imagine John Coltrane and his classic quartet—Elvin Jones, McCoy Tyner and Jimmy Garrison—playing rock, and you've got an idea of the level at which these guys are working.
24-7 Spyz
G/O Media may get a commission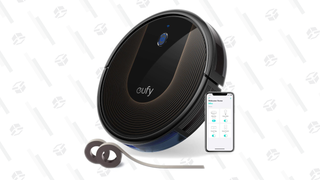 48% Off
Eufy BoostIQ RoboVac
Since 1986, 24-7 Spyz has been fusing heavy metal, soul and funk. Check them out at the 2010 Afro-punk Festival and you'll see that they ain't no ways tired.
The Family Stand
There's magic when you get Peter Lord, Sandra St. Victor and V. Jeffrey Smith together on the stage. It's impossible not to be moved by their impeccable songwriting and fierce musicianship. Those who only remember them from their '90s hit ''Ghetto Heaven'' will be blown away—again—by their upcoming album In A Thousand Years, set for a fall release.
Nona Hendryx
You can't talk about trailblazers and not mention music icon Nona Hendryx. Last year, she joined her sisters in rock—Patti LaBelle and Sarah Dash—for last year's LaBelle reunion. But Hendryx isn't stuck in the past. She stays busy producing and writing music for film, TV, and theater projects and showcasing a new generation of artists via her UnFiltered music series at S.O.B.'s in Manhattan. Oh, and her voice? She can still raise the roof whenever she damn well pleases.
Fishbone
Ska, punk rock, funk metal and an irrepressible stage show have made Fishbone mainstays and heroes to fans around the world. They are now the subjects of a documentary, Lev Anderson and Chris Metzler's Everyday Sunshine: The Story of Fishbone, which recently premiered at the L.A. International Film Festival.
Death
The punk band that pre-dated Bad Brains, the story of Detroit's Hackney brothers has been 35 years in the making. While collectors had been trading rare recordings of the band for years, it was the 2009 rerelease of their first album . . .For All The World To See that thrust them back into the spotlight as the visionaries they were. Currently on tour, they're picking up a new generation of fans.
Kele Okereke
After leading the critically acclaimed British indie rock band Bloc Party for nearly a decade, Okerere is exploring a solo career during the band's ''hiatus.'' His recently released solo album, The Boxer, further mines the electronic landscape that later Bloc Party albums explored, but still swings from sentimental ballads to songs with a raw, organic feel.
Shingai Shoniwa
Shoniwa, whose first name means ''persevere'' in the Shona language of Zimbabwe, is the voice behind the British indie rock band, the Noisettes. Hers is a voice that can shift on a dime between playful and guttural. Shoniwa is a standout in fashion circles, too: She's been as much admired for her fashion sense as for the critical acclaim she's helped the Noisettes garner.
Leila Adu
London-born, New Zealand-bred and now Italy-based, Adu is a multi-octave singer-songwriter on the rise, whose music deftly occupies that space between jazz, rock, classical and pop. She's a riveting performer who isn't afraid to break traditional song structure in her compositions, starting them one way and ending them another. Adu bravely marches to her own metronome.
Ebony Bones
The musical sister of Santigold and M.I.A., and is possibly a distant cousin to that other U.K. export, Lady Sovereign, the woman born Ebony Thomas is equal parts New Wave, grime and plenty of dance music thrown in. This British performer proves that along with solid songwriting, energy and showmanship still count for something. Anyone who counts the Knowles sisters as fans has to be doing something right.
Just A Band
Thanks to the video for their song ''Ha-He,'' this Kenyan house/disco/funk band is making inroads in the States. The video, which spoofs blaxploitation films, became so popular that it was known as ''Kenya's first viral meme.'' Along with harder edged rock bands like Last Year's Tragedy and Murfy's Flaw, they form the foundation for a vibrant music scene in Nairobi.
BLK JKS
BLK JKS, most recently seen performing at the World Cup with Alicia Keys, mixes heavy doses of their own South African kwaito, jazz, ska, reggae and progressive rock fury that is at once serious, yet playful. There's a depth to lead singer Lindani Buthelezi's voice that makes him seem older than his years. And drummer Tshepang Ramoba, who combines jazz precision with rock muscularity, is a pleasure to watch.
Noiseaux
Author, activist and singer: That's how you'd describe Noah Sow. The Black German singer is on a self-proclaimed mission to reclaim rock, and with the help of her multicultural band Noiseaux (prounounced nwazo), she's well on her way to succeeding and, at the same time, confronting the uncomfortable truths many would rather remain unspoken in Germany's touchy racial climate.
Game Rebellion
This Brooklyn-based band is a crowd favorite for a reason: They are one of the few bands that effortlessly bridges hip-hop and rock. Comprised of a real MC and four killer musicians, their songs span a range of subjects and emotions, taking on the personal and the political. See them whenever you can, but be warned: Mosh pits form at every Game Rebellion show.
MuthaWit
Boston Fielder's ever-evolving ensemble mashes free jazz exploration with rock, soul and classical sensibilities. Experimental visuals used during the band's live performance only deepen the sensory effect of being immersed in a swirling, almost kaleidoscopic, musical adventure.
Tamar-kali
A genre-busting artist, Tamar-kali's music runs the gamut from aggressive melodic rock to left-of-center approaches to classical. She has a true maverick spirit with a fierce and intense fire. Her live shows aren't easily forgotten: Folks who don't smoke have been known to ask for a cigarette after her performances. Thankfully for her growing fans, her new album, Black Bottom, drops mid-July.
Janelle Monae
This native of Kansas City has been building serious grassroots buzz for nearly three years leading up to the recent release of her full length album, The ArchAndroid. A nerdy, confident and cool black girl creates this fully formed sci-fi fantasy world and doesn't even try to sell it by shaking her ass. In fact, she in no way underestimates the audience. There's nothing least common denominator about it. Instead, we're all invited into Janelle's world, and she assumes that we'll find our way around it because it's one that she's made real for us. Brava!
Sevendust
For those of us just getting to know this Atlanta-based band, one of the real joys is hearing lead singer Lajon Witherspoon do everything from power ballads to metal bangers to hard-core screams. His performances haven't gone unnoticed: Hit Parader named him to the list of ''Top 100 Rock Vocalists of All Time'' and other metal bands such as Staind, Diecast, and Seether, to name a few, cite him and Sevendust as influences.
Earl Greyhound
Upon hearing this trio, you understand what people mean when they talk about the Hoochie Coochie Man, the Voodoo Chile, the Funk Doctor. There's some conjuring that happens at an Earl Greyhound show between Matt Whyte's guitar, Kamara Thomas' bass and Ricc Sheridan's drums that's impossible to ignore, and it holds you tight until the last now is played and you are finally released.
The 54
This quartet of Morehouse men brings an energy and a tightness that aren't regularly seen, which may be one reason they're ready to take on bigger audiences and bigger venues. The quartet has already garnered a cult-like following in Atlanta, where the band was born.
Res
In 2001, Res (pronounced Reese) released her debut CD, How I Do, which quickly became a staple of many a Boho hipster's playlist. Soon, this native of the Philly suburbs was touring with Maxwell; she's also done guest spots with Talib Kweli and GZA. But Res is her own woman. On top of having a beautiful voice, her  songwriting is strong and sharp, an ability that's still rare when you look at the overall music landscape.
Cipher
Led by Moe Mitchell, Cipher is a political hardcore band from Long Island, New York. What that means is that you need to get ready for some really hard, politically-oriented punk rock that pushes a progressive vision. And don't be put off by what might initially sound like noise: There's a level of musical sophistication that shows that these guys are armed with way more than three chords and a punk take on the blues.
Cody ChesnuTT
A Cody ChesnuTT show is like entering the world of an African storyteller; the audience is part of a campfire circle. His music bravely leaps between genres, from sweet '60s soul to first wave British invasion to Dirty South hip-hop and post-modern dream pop.
Martin Luther
Equal parts gospel wailer, soul crooner and blues rocker, Martin Luther channels his influences into a powerful live show that never fails to leave audiences wanting more.
TV On The Radio
To have your album named Album of the Year by both Rolling Stone and SPIN is no small feat, but Brooklyn's TV On The Radio did just that with their last effort, Dear Science. They have taken their songs—personal, idiosyncratic, sometimes political—and parlayed them into a worldwide fan base.
The Bots
You've gotta love the fact that two brothers from Glendale, Calif., Mikaiah and Anaiah Lei—16 and 13, respectively—are turning heads with their mix of punk, ska, rock and reggae. They're serious about their music and it shows. Catch them before their train leaves the station.
J*Davey
When a group crushes it, you know it. There are no non-believers after a J*Davey show, where audiences get hit with a heady dose of alt hip-hop, alt rock, electronica, jazz and punk fusion sounds.
Shelley Nicole's blaKbushe
Shelley leads an incredibly tight ensemble—''the only bush you can trust''—whose sound was described by a reviewer as ''a rock-soul-electronica hybrid, sounding like a feminist version of the Brooklyn Funk Essentials.''
Gordon Voidwell
Rick James meets Prince meets the Talking Heads: That's the best way to describe the sound created by Will Johnson along with his bandmates Guillermo Brown, Tecla Esposito and Kassa Overall. With his music, he's on a mission to embrace the immense void that exists between seemingly opposite ideas of past and future, hip and dorky, pop and indie.
Carolina Chocolate Drops
One of the few remaining African-American string bands, the Carolina Chocolate Drops pay homage to the music of the Piedmont region of the Carolinas on instruments such as fiddle, banjo, jug and kazoo. The Chocolate Drops—Dom Flemons, Rhiannon Giddens and Justin Robinson—formed the band in their 20s and perform to capacity crowds.
Faith
What's not to like about a dreadlocked black woman bassist handling the low end and singing with a voice like warm honey? If this is an appealing thought, then you're well on your way to becoming a fan of Felice Rosser's atmospheric, indie dub rock trio Faith. As one reviewer put it, her voice is ''female and male, forceful and sensitive, suggesting a creator-destroyer figure, artist and muse at once, thinker and object of thought.''
Peekaboo Theory
If you're thinking of Houston only as the land of ''syrup,'' then you're missing out on a vibrant music scene, one that's produced the remarkable band, Peekaboo Theory, a six-member indie rock/experimental band. But pay attention: Having done a ton of live shows in venues across the South, they're poised to set foot on a national stage.
Divisible
Lead vocalist and guitarist Shola Akinshemoyin and drummer Albert Sadia mix indie rock, electronica and African music influences (she's Ghanaian and Nigerian, and he's Egyptian) into a beautifully moody and atmospheric concoction. Up under the headphones, the arrangements and Shola's voice combine to wrap you like a blanket.
Burnt Sugar
Under the direction of cultural critic and now bandleader Greg Tate—who employs Butch Morris' Conduction Method to lead the band—Burnt Sugar is an improvisational group that combines elements as diverse as funk, rock, jazz, heavy metal and 20th-century classical music. Experiencing them live is recommended: Like Sonny Rollins, their best performances have probably never been recorded.
Dearling Physique
Pushing boundaries while remaining accessible, Dearling Physique is the brainchild of performance artist Domino, who channels Laurie Anderson, Grace Jones and Ziggy Stardust-era Bowie during the course of his show.
Galaxy of Tar
To describe Galaxy of Tar as a ''Millennial Mars Volta,'' that progressive rock outfit fronted by Omar Rodriguez-Lopez and Cedric Bixler-Zavala, might not be a bad place to start. There's the Latin connection: Singer Naima Mora, of Mexican ancestry, has a voice that soars, swoops and will not be denied. Drummer Elias Diaz is Dominican, and favors expansive polyrhythms that sweep you up in their wake. It's a musical adventure that's far from over.