Carmelita Jeter (100-Meter, 200-Meter)
Jeter, who is second only to legend Florence Griffith Joyner for the world record, is hoping to win the title of "fastest woman alive" in an event that was swept by the Jamaican team at the 2008 Beijing Olympic Games. She'll also be a medal contender in the 200, where her teammate Allyson Felix will be one of the favorites.
Allyson Felix (100-Meter, 200-Meter)
Though she was embroiled in the dead-heat 100-meter race controversy at the Olympic trials, Felix is expected to contend for the gold in her specialty, the 200. At the Olympic trials, Felix breezed past the competition in 21.69 seconds, the first woman this year to break 22 seconds. If she can duplicate that performance and get past a tough Jamaican team, she'll be standing on the top podium in London.
Sanya Richards-Ross (200-Meter, 400-Meter)
G/O Media may get a commission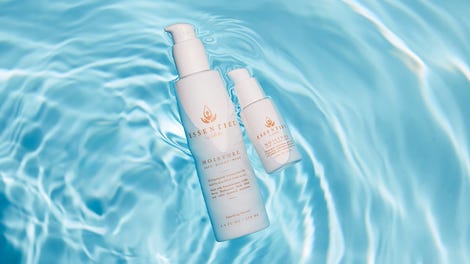 20% off
Essentiel by Adele
After a disappointing third-place finish in the 400 at the Beijing Olympics in 2008, Richards-Ross is seeking redemption in London. If she can win gold in both her races, she'll join some elite company — Valerie Brisco-Hooks won gold for both in 1984, as did Michael Johnson in 1996. She would be the third woman to match the feat. Expect to hear stories about her biggest cheerleader — husband Aaron Ross, a defensive back for the Jacksonville Jaguars — who had to get permission from the NFL to travel to London to root for his wife.                                      
Tyson Gay and Justin Gatlin (100-Meter)
Athens gold medalist Gatlin, who served a four-year doping ban from 2006 to 2010, and U.S. record holder Gay, who has suffered through multiple injuries, represent America's best hope against Jamaican sprinters Usain Bolt and Yohan Blake. Blake stunningly beat Bolt in both the 100 and 200 trials for their country's Olympic team. While chances are slim for the Americans, they're expected to put up a good fight.
Wallace Spearmon (200-Meter)
Spearmon will be one of the obstacles in the way of Jamaican sprinter Usain Bolt, who will be going for an unprecedented repeat gold medal in both the 100 and 200. Spearmon will also have to contend with Bolt's teammate Yohan Blake, who is poised for a breakout moment in London.
Lashinda Demus (400-Meter Hurdles)
Demus, who gave birth to twin boys and overcame postpartum depression in 2007, may be hitting her stride at just the right time. After a disappointing performance in Athens in 2004 and after failing to make the national team for Beijing, the reigning world champion is expected to take home a medal in London.
Alysia Montaño (800-Meter)
Montaño, who famously wears a flower in her hair when she runs, is attempting to become the first American woman to win an Olympic medal in the 800 since the 1988 games, when Kim Gallagher captured a bronze.
Lolo Jones and Dawn Harper (100-Meter Hurdles)
Harper, the defending Olympic gold-medal champion, has been overshadowed by media darling Jones, who captured the spotlight after she told HBO's Real Sports that she was a virgin. Some have even suggested that colorism has played a role in keeping Harper out of the limelight. But the script will likely be flipped in London, where Harper is a top contender for a medal, while Jones is a long shot. They'll both be chasing the gold-medal favorite, Australian Sally Pearson.
LaShawn Merritt (400-Meter)
 Merritt has experienced an embarrassment of riches — with emphasis on the embarrassment. The reigning Olympic gold-medal champion served a 21-month suspension after testing positive for a banned substance found in penis-enhancement pills he purchased. The sprinter, the first banned gold medalist to defend his title, may laugh at the moment now, but when the gun goes off in London, expect him to be all business.
Aries Merritt and Jason Richardson (110-Meter Hurdles)
Merritt beat Richardson, the current world champion, at last month's Olympic trials, putting him in a position to be America's best chance for a medal. Both racers ran sub-13-second times at the trials, a feat they'll need to repeat if they hope to take down the world record of 12.87, set by Cuban Dayron Robles, who will also be competing in London.
Ashton Eaton (Decathlon)
Eaton put the world on notice when he set a world record in the 10-sport event at the U.S. Olympic trials in June. Eaton, who is biracial, is the top prospect for gold and the title of "world's greatest athlete." Eaton reminds us of Dan O'Brien, another biracial decathlete who was also a world-record holder and gold medalist at the 1996 Atlanta Olympics.
Chaunte Lowe and Brigetta Barrett (High Jump)
Lowe and Barrett, America's No. 1 and 2 respectively, will literally be setting the bar high for the rest of the field. Lowe, a mother of two, is the American record holder, while Barrett set a personal best at the U.S. trials. Both are medal contenders.
Marquise Goodwin (Long Jump)
Goodwin, who is also a star wide receiver for the University of Texas, will be trying to medal in a sport made memorable by Bob Beamon, who broke the 29-feet barrier with a jump of 29 feet, 2.5 inches, at the 1968 Mexico City Olympics. That record stood until 1991, when Mike Powell jumped 29.4 feet, a record that stands today.
Christian Taylor and William Claye (Triple Jump)
Taylor, the current world champion, is expected to medal, while Claye has pulled off the rare feat of qualifying to compete in both the triple and the long jump (he finished second in both events at the U.S. Olympic trials).
Britney Reese (Long Jump)
The four-time U.S. champion heads to her second Olympics as a favorite to become the first American woman to win a gold medal in the long jump since Jackie Joyner-Kersee did it in 1988.
Reese Hoffa (Shot Put)
After finishing 22nd in qualifying at the 2004 Athens Olympics and placing seventh at the 2008 Beijing games (even though he was the world champion), Hoffa heads to London as the favorite after uncorking the three longest throws this year.
Gabrielle Douglas (Gymnastics)
Sixteen-year-old Gabby Douglas, nicknamed the "flying squirrel" for height-defying acrobatics, is hoping to following in the footsteps of Dominique Dawes, who became the first African American to win an individual medal (bronze) for gymnastics and helped the team win gold at the 1996 Olympics. Like Dawes, Douglas will be a major player in Team USA's pursuit of a gold medal.
Rau'shee Warren (Boxing, Flyweight)
Warren, the first three-time boxing Olympian, hopes that this trip is a charm as he seeks his first medal after a stellar career, including four national titles. He has a chance to restore some luster to U.S. boxing, which was once famous for launching the careers of prominent pros such as Muhammad Ali, Oscar de la Hoya and Floyd Mayweather.
Claressa Shields (Boxing, Middleweight)
For the first time, women's boxing will be a medal sport, and 17-year-old Shields, the youngest U.S. boxer in 40 years, is a favorite to bring home gold. Shields showed how much of a fighter she truly is after she recently shared with Essence her story about surviving rape and sexual abuse as a child.
Anthony Ervin and Cullen Jones (Swimming, 50-Meter Freestyle)
Ervin and Jones have done more than defy the stereotype that black people don't swim: Ervin was the first African American to win an Olympic gold medal in swimming, while Jones — who will also compete in the 100 freestyle race — was the second to win gold. With 17-year-old Lia Neal, the second African-American female swimmer ever to make it to the Olympics, the 2012 U.S. swim team is as diverse as it's ever been.
Jordan Burroughs (Freestyle Wrestling, 74-Kilogram)
Burroughs, whose Twitter handle is @alliseeisgold, may catch a lot of flak for his confidence. But the cockiness is warranted — he's one of America's best bets to win gold in London.
Kendrick Farris (Weightlifting)
Though Farris, the only male weightlifter on the U.S. team, will likely be overshadowed by fellow teammate Holley Mangold (sister of New York Jet center Nick Mangold), the Louisiana native is expected to contend for a medal in the 85-kilogram weight class.
Women's Indoor Volleyball
The women's volleyball team has never won an Olympic gold, but this year's squad, featuring Megan Hodge, Destinee Hooker and Danielle Scott-Arruda (who's playing in her fifth Olympics), hopes to change all. The team is ranked No. 1 in the world but will face stiff challenges from perennial contenders Brazil and China.
Women's Basketball
Though the women's team is always overshadowed by the men's team, the expectation to win gold is still just as high. The women's squad — which includes WNBA Rookie of the Year Maya Moore, WNBA MVP Tamika Catchings, Candace Parker and Seimone Augustus — will be shooting for a fifth gold medal in a row and protecting a 33-0 Olympic winning streak that started back in Barcelona in 1992, the same year the men brought their Dream Team to the Olympics.
Men's Basketball
With injuries to several superstars and more competitive international teams, the gold medal won't be an easy slam dunk for the men's team, whose starters include guards Chris Paul and Kobe Bryant, forwards LeBron James and Carmelo Anthony and center Tyson Chandler. While this squad is definitely the team to beat, we agree with Michael Jordan: There's no way the 2012 team would beat the 1992 Dream Team. Sorry, Kobe!
The Williams Sisters (Tennis)
Serena returns to the courts of Wimbledon, where she recently won her fifth singles title, in an attempt to capture her first gold medal in women's singles. She and her sister Venus are favored to win their third gold medal in women's doubles.
Like The Root on Facebook. Follow us on Twitter.