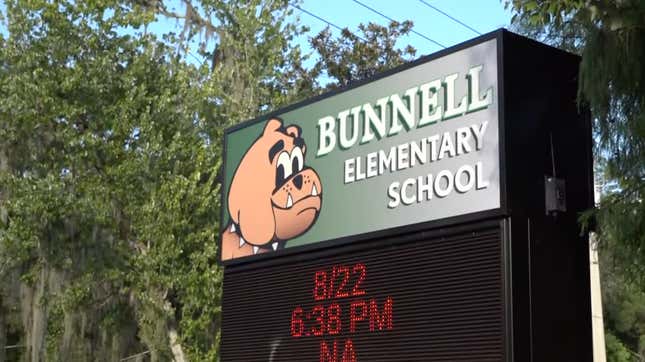 Updated as of 8/25/2023 at 11:30 a.m. ET
Oh, how the tables have turned. The school administrators who tried to discipline the Black students of Bunnell Elementary were disciplined themselves amidst the school district's investigation.
Tackling A Black Maternal Health Crisis & Embracing Reproductive Justice | The Root Institute
Flagler County school district sat down the Bunnell Elementary Principal Donelle Evensen and teacher Anthony Hines for their role in putting together the meeting held August 18, per WESH. The two were placed on administrative paid leave and following the investigation by the district, there may be even more discipline. In a press conference last night, the school board chair for the Black fourth and fifth graders being pulled from class for a fear mongering PowerPoint presentation.
"We make no excuses. It should not have happened. If we would have known about it, it wouldn't have happened," said Flagler Schools chair Cheryl Massaro.
In an initial response to the incident, interim Superintendent LaShakia Moore said Principal Evensen had no harmful intentions when organizing the assembly but also gave an odd excuse for her actions writing, "sometimes, when you try to think 'outside the box,' you forget why the box is there" - whatever that's supposed to mean.
The report says parents called the assembly a form of bullying and consider removing their children from Bunnell because they no longer feel safe there.
The "Good Grades or Die Tryin'" Assembly
A Florida school district launched an investigation after an elementary school pulled its Black students into an exclusive assembly addressing their test scores. In that meeting, the children were warned that if they didn't get good grades, they'd end up dead or in jail.

You read that right: in a state where teaching grade-schoolers that slavery had fringe benefits, it's now also a thing in at least one district to blame the students rather than the adults for low performance on standardized test scores. And rather than finding solutions that amount to parents, educators and policymakers doing better, the chosen remedy is warning the third and fourth graders at Bunnell Elementary School in Flagler County, Fla., that they were on a path straight to jail or hell if the scores didn't come up. Uh...warning all the Black kids, that is.
The students were pulled out of their class Tuesday for a hastily-made together PowerPoint presentation on grade averages, per First Coast News.
The Black students were referenced in a section titled "The Problem" and were described to have under performed on standardized assessments for the last three years. When 41 percent of students should be at a level three or higher for the ELA/Math subjects, only 32 percent were performing.
Though, in addition to building morale and offering solutions to help the children excel in their testing, parents say their kids were given a disturbing warning about what their future looks like if they get bad grades.
Read more from FOX35 Orlando:
FOX 35 News spoke with the two students, with their parents' permission. The two students were pulled from class on Friday to attend the special assembly. When they got to the assembly, the 9-year-olds realized that it was being held just for the Black students in the school.

"I was embarrassed," said Kenadee Robinson. "Because they put us in the cafeteria because of race. And, the color of our skin."

Jeff said the assembly scared him because of what one of the teachers told the Black students.

"I didn't like how he said if we don't have high scores that we could get shot, dead, or end up in jail or on the side of the road," explained 9-year-old Jeff. "It made me feel uncomfortable and unsafe. I don't want to go to school now because I don't want to end up in jail, the side of the road – or get shot or anything."
Standardized tests have long been criticized for racial bias due to the consistent "achievement gap" between white students and Black students' test scores. I mean, one of the founding fathers behind the standardized test, Carl Brigham, believed Black people were inferior and therefore, could harm the education system.
"- to tell the truth about standardized tests is to tell the story of the eugenicists who created and popularized these tests in the United States more than a century ago. Eugenicists today are commonly considered to be racist but somehow many Americans consider their tests to be "not racist," whatever that means," said author Ibram X. Kendi in a statement in 2020.
Interim Flagler Superintendent LaShakia Moore issued not just one but two statements trying to make amends after parents responded to the incident with outrage - each of which came right ahead of her interview to be superintendent full-time, per FlaglerLive. The report says the head of the Office of Professional Standards is currently leading an investigation into the incident and the findings may result in disciplinary action.