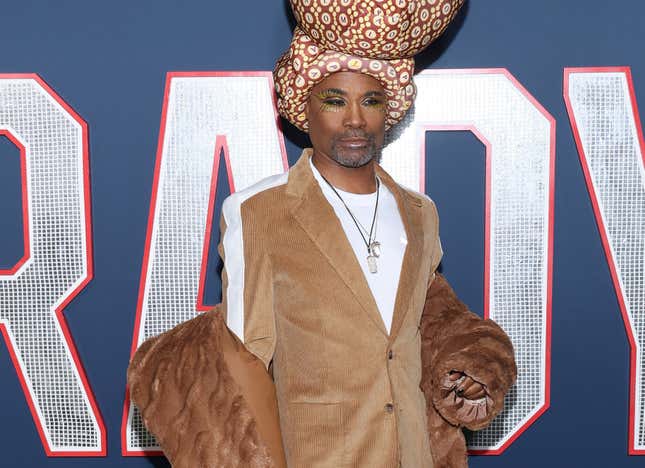 When it comes to the entertainment industry, Billy Porter has never been shy about speaking his truth. He's always ready to call out discrimination and hypocrisy when he sees it. He's also very open about the obstacles he faced as an openly gay Black man. He recently revealed a particularly upsetting part of his early career when he explained why he was essentially blackballed from R&B music because of his sexuality.

Emmy, Grammy, & Tony Award-Winner, Billy Porter, Plays That's So Random
"When I got into the business in the late '80s, I was told that my queerness would be my liability," Porter told the Evening Standard. "Not just in the music industry, but across the board. And it was a liability. They kicked me out of mainstream R&B."
I wish this revelation were more surprising, but we all know that the LGBTQ+ community hasn't always been accepted the way they should be by the Black community. We know Billy Porter's vocals are unmatched, so it obviously wasn't talent, or personality, that kept him from finding success as an R&B singer. Unfortunately, his story probably isn't an outlier. He's just one of the rare artists who was able to defy expectations and still hit it big. It wasn't until after he became a household name—winning a Tony for Kinky Boots and an Emmy for Pose—that his popularity became more important than any outdated feelings about him being gay.
"Made a name for myself, period," he said. "Not just Broadway. I won an Emmy. I'm a fashion icon. Now they need me. Winners write their history, because I'm not supposed to be here looking like this."
The Cinderella star is very aware that he represents a lost generation of gay men, and that he needs to be a role model for the next generation of queer artists.
"I'm so grateful that I lived long enough as a gay man of a certain age," he said. "I lived through the AIDS crisis, honey! I lost a whole generation of folks. [But I] know that I'm part of the generation who kicked the door down."
Billy Porter will certainly make waves with his next project. He's starring in and producing a biopic of famed author James Baldwin. Say what you will about the star, he welcomes a challenge and enjoys proving the haters wrong.