Amid the groundbreaking work of the #MeToo movement, a mere months before jury selection is scheduled to begin before his own retrial in a sexual assault case, Bill Cosby decided to take the stage at a jazz club in Philadelphia for his first public appearance since the allegations came forward in 2015.
According to NBC, the disgraced 80-year-old comedian cracked jokes, played with a jazz band and told stories to a supportive audience at LaRose Jazz Club during an event honoring jazz drummer Tony Williams. According to the New York Times, the event was open to the public, but Cosby's spokesperson announced the appearance only about two hours before the event started.
The comedian, carrying a cane and wearing a gray sweatshirt with the words "Hello Friend" on it, held the stage for about an hour, joking about his struggles with blindness. He also played the drums with the Tony Williams Jazz Quartet.
What did go unmentioned during his appearance, of course, was his looming retrial that is scheduled to begin with jury selection March 29. Cosby is once again facing charges that he drugged and sexually assaulted Andrea Constand, a former Temple University basketball staff member, at his home near Philadelphia in 2009.
G/O Media may get a commission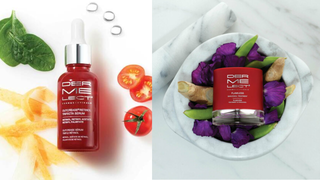 Save $19
Retinol Renewal Kit
NPR reporter Bobby Allyn asked Cosby about the #MeToo movement and how it might affect his retrial, to which Cosby responded, "I don't know."
The Times notes that last week, prosecutors asked a judge to allow the testimony of 19 other women who have accused Cosby of having assaulted them.
"This evidence is relevant to establish that an individual who, over the course of decades, intentionally intoxicated women in a signature fashion and then sexually assaulted them while they were incapacitated, could not have been mistaken about whether or not Ms. Constand was conscious enough to consent to the sexual contact," Montgomery County District Attorney Kevin Steele wrote in a motion Thursday.
Regarding Cosby's Monday performance, Constand's lawyer, Dolores Troiani, told NBC in an email that she had not seen it.
"Right now, the only thing I can say is the arrogance of this man leaves every decent person speechless," Troiani added.