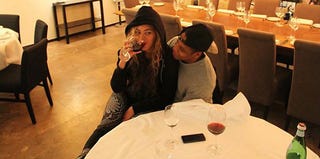 "I can't stop the rumors from starting, and I can't really change people's minds who believe them," Beyoncé wrote on her Tumblr page recently, according to the Daily News, in reaction to the latest rumors that she is pregnant. The star gave birth to her first child, daughter Blue Ivy, in 2012.
"All I can do is sit back and laugh at these low life people who have nothing better to do than talk about me."

The star is currently on a world tour, The Mrs. Carter Show, which made a stop in Berlin on Friday, where she was photographed drinking wine while sitting on her husband Jay-Z's lap. Many took that to confirm she's not expecting her second child anytime soon.
Read more at the Daily News.