On Saturday, some of the biggest names in entertainment, business and politics gathered together in Washington, D.C., at the Warner Theatre to honor black excellence at the BET Honors 2016. The initial taping, which was scheduled in February for Black History Month, was postponed because of weather, but the makeup date was every bit as fabulous.
Funny man Arsenio Hall kept the jokes rolling all evening. He opened the show, reflecting on Obama's final year in office and the fact that he's "blacker than ever." He also noted that if Trump were to take office, Black History Month and gatherings of this nature would, in fact, no longer exist: "Trump is going to put an entire wall around the month of February."
Saturday night's honorees included Academy Award-nominated director Lee Daniels, creator of the hit television show Empire; Mellody Hobson, president of Ariel Investments, one of the largest African-American-owned money-management and mutual fund companies in the U.S.; Eric Holder Jr., the first African-American U.S. attorney general; Grammy Award-winning vocal powerhouse Patti LaBelle; and music mogul L.A. Reid, chairman and CEO of Epic Records.
Empire's Terrence Howard and Gabourey Sidibe were on hand to present Daniels with his award, which he dedicated to his grandmother Grace H. Daniels, the first black woman to graduate from Duke University and on whom the Empire character Cookie is based. He even joked about how "everybody and their mama" is trying to sue him because they claim they came up with the character themselves. Daniels recalled that when he was 5 years old his grandmother said, "You know, you are a f—got, but you know what? It's going to be good. You're going to do some good things. Just learn to tell the truth, even though people aren't going to like it."
Reid was rather choked up as he gave his thank-yous, specifically to his producer-writing partner of many years, Kenneth "Babyface" Edmonds. The evening would later include a momentous occasion for the duo when their former funk band, the Deele, reunited on the BET stage for the first time in 28 years, performing hits "Body Talk" and "Two Occasions."
G/O Media may get a commission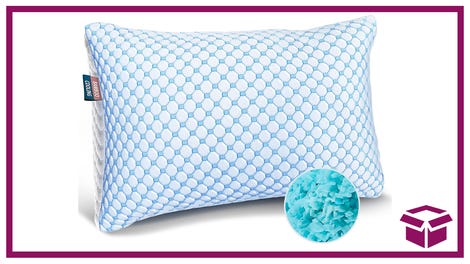 23% off
Nestl Cooling Pillow - Queen Size
Holder used his acceptance speech to shed light on the current state of our society: "Our criminal-justice system is still afflicted with a negative race-conscious system that leads to unfair treatment, unnecessary death, and the diminishing of the necessary trust that must exist between those on the front line and the communities that they are sworn to protect." He continued, "We do not yet live in a post-racial society."
A powerhouse in her own right, but perhaps best known by some as George Lucas' wife, Hobson took a moment to thank her husband during her acceptance speech: "See, I married Yoda's dad. And he's the person that roots for me every day. He tells me, 'Do or do not; there is no "try,"' and I love him for that."
The final award of the night was presented to Patti LaBelle—or, as she was appropriately introduced by Monica, "Aunty Patti." And LaBelle's presence was every bit as graceful as the artist herself. She mentioned being on the BET Honors stage a number of times to pay tribute to other performers: "I thought to myself, one day BET might honor me." And the time had finally come.
Quite appropriately, the music selections were all about paying homage. Performers included Usher and Toni Braxton (in tribute to Reid), who sang a collection of their hits from the 1990s and 2000s; Eddie Levert and Fantasia in two powerful tributes to LaBelle; Jussie Smollett (who received a standing ovation for his dedication to the #BlackLivesMatter movement) in tribute to Daniels; Ledisi, who honored Natalie Cole; and Jazmine Sullivan and Raheem DeVaughn, who performed a tribute to Maurice White of Earth, Wind & Fire.
The BET Honors will air March 14 on BET Networks at 8 p.m. ET/7 p.m. CT.
Kimberly Wilson is the social media editor at The Root. Follow her on Twitter.