Prince Akeem and Lisa, 'Coming to America' (1988)
He traveled thousands of miles from Zamunda to find his queen in Queens. But when Lisa McDowell finds out that Prince Akeem isn't the goat herder she imagined, it seems she won't forgive him. Lucky for him, she comes around in time for their royal wedding.
Captions by Erin E. Evans
Dwayne and Whitley, 'A Different World' (1992)
Our favorite college sweethearts almost didn't get married on A Different World. As Whitley stands at the altar to marry old what's-his-name, Dwayne Wayne crashes the wedding to proclaim his love. "Will you?" he asks. (Of course, Whitley's mom, played by Diahann Carroll, isn't too happy about this, saying, "Die, just diiiie.") Long live Mr. and Mrs. Dwayne Wayne!
Martin and Gina, 'Martin' (1995)
G/O Media may get a commission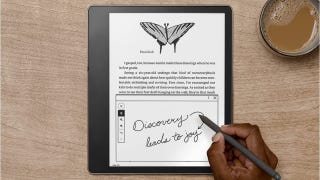 Releases November 30
Borrowing the display from the much-beloved Paperwhite, this screen provides a glare-free experience both indoors and outdoors so you can read by the pool or on the beach on a sunny day. New to this model is the inclusion of a pen. Take notes directly on the pages as you might in a traditional book, but the notes are automatically organized by title in a single place–letting you review and export them with ease.
After too much drama at the rehearsal dinner, Martin, Gina, Tommy and Pam jet off to the Bahamas so that Gina Waters can become Mrs. Payne. Greatest moments in the episode? Martin getting his final boogie on as a single man and Babyface singing "You Are So Beautiful" as Gina walks down the aisle.
Derwin and Melanie, 'The Game' (2009)
Throughout their up-and-down relationship, Melanie has always complained about how much she sacrificed to be with Derwin. And just before she says "I do," Girl Melanie goes one step further. She excuses her hubby-to-be to go to the hospital as his baby mama goes into labor. But it's the tearjerker, intimate wedding in the hospital's chapel — with John Legend's "This Time" in the background — that really seals the deal.
Dre and Reese, 'Brown Sugar' (2002)
"You're the perfect verse over a tight beat," Dre tells Sidney on New Year's Eve. But he isn't married to Sid. He is married to Reese, a high-powered attorney. In this wedding scene, Sidney has to do the unthinkable: watch the man she loves marry another woman.
Lisa and Will, 'The Fresh Prince of Bel-Air' (1995)
Lisa and Will are determined to get married, no matter what their parents say. So they decide to elope. But after Will can't get through his vows at a Shaft-themed wedding, they decide to slow down and take their parents' advice.
Jesse and Angie, 'All My Children' (2008)
Ne-Yo's singing in the background. Jesse's clutching his heart at Angie's beauty as she walks down the aisle. (Cameo alert: The Wire's Clay "Sheeee-it" Davis as the minister.) Long live Mr. and Mrs. Jesse Hubbard. RIP, All My Children.
Lance and Mia, 'The Best Man' (1999)
After sneaking to read Harper's soon-to-be-published memoirs, Lance discovers some news he can't handle. After threatening to call off the wedding, he delivers his vows with tear-filled eyes and a choked-up voice.
Roland and Lisa, 'The Wood' (1999)
Mike, Slim and Roland have been getting into antics ever since the night of their eighth-grade dance. But the night before Roland is to settle down with the love of his life, Lisa, he gets too drunk to function, spawning a day full of his Inglewood brothers trying to get him to the wedding on time. Cost of Roland's drunken night? A dry-cleaning bill, Slim's Ferragamos and a car-detailing service. Reminiscing about good times with good friends? Priceless.
Jamie and Fancy, 'The Jamie Foxx Show' (2001)
On the 100th and final episode of The Jamie Foxx Show, Jamie finally gets his girl. Not only does he serenade Fancy, but he surprises her with the keys to a brownstone in New York, where she's just secured a new job. Cameo alert: James "Uncle Phil" Avery is the minister.
Claudine and Rupert, 'Claudine' (1974)
Although the wedding is interrupted when police-dodging Charles bursts into the apartment, the end of the film shows the strength of a single mother who meets the love of her life. For its time, Claudine provided a glimpse into the real-world lives of African Americans while other films featuring black characters were mostly in the blaxploitation genre.
Pam and Luis, 'Martin' (1996)
Desperate times call for desperate measures. So when Pam is looking to get some quick money, and Luis, Martin's super, needs a way to stay in the United States before he is deported, the opportunity presents itself for them to help each other out. So Tommy acts as the preacher, Luis wears an ugly, powder-blue suit, and Martin and his friends somehow manage to pull off a sham wedding to get Luis' green card.  
Sinclair and Overton, 'Living Single' (1997)
Sinclair and Overton make a quirky pair. She is a woo-woo-woo-ing troll lover, and he is the country-bumpkin handyman. There is nothing that can come between the two. So as Khadijah and Kyle sing "I Commit to You," it's easy to see that this couple will stand the test of time. (Can we get Living Single on DVD already?)
Stacy and Charles, 'Let's Stay Together' (2011)
The show just wrapped its first season a couple months ago. So it was quite surprising that a wedding would come so early in the show's run. But in the last moments of the season finale, Charles leaves Stacy at the altar. Will she forgive him in the second-season premiere? Or has Charles lost the love of his life for good?  
Keith and Thelma, 'Good Times' (1978)
Michael sings "You and I" as Thelma takes a walk down the aisle to marry her football-playing love. Both Florida and Keith struggle to hold back the tears.