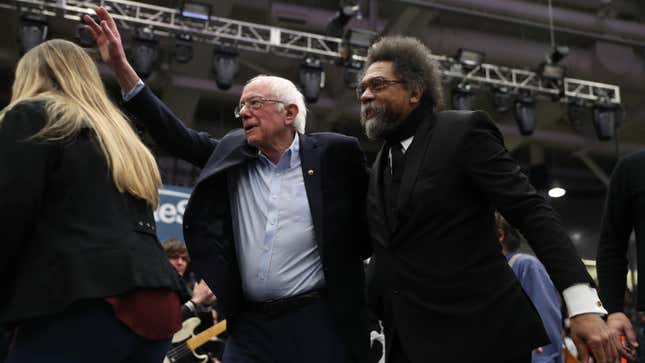 Third-party presidential candidate Cornel West is sharing his thoughts on Bernie Sanders supporting President Joe Biden's reelection bid—and he's not a fan. During an interview on The Hill's "Rising," West—who supported Sanders's 2016 presidential campaign—said he understood Sanders decision even though he doesn't necessarily agree with it.
Tackling A Black Maternal Health Crisis & Embracing Reproductive Justice | The Root Institute
"Brother Bernie's making a plausible argument, but I think deep down in his heart, he knows that the Democratic Party has no fundamental intention of speaking to the needs of poor people and working people," West stated. The scholar didn't stop there.
West also claimed that "[Sanders] and [Alexandria Ocasio-Cortez] and the others are going to be in a certain sense, window dressing, at worst, and, at best, people to appeal to every four years. But the Democratic Party is beyond redemption at this point when it comes to seriously speaking to the needs of poor and working people."
However, Sanders and Ocasio-Cortez have some of the most outspoken people in Congress and frequently urge Biden to take more liberal positions. West has previously stated that Sanders backing Biden is a kneejerk reaction to the "neo-fascism of Trump." On Sunday, Sanders responded on CNN's "State of the Union."
"Where I disagree with my good friend of Cornel West is, I think in these really, very difficult times where there is a real question whether democracy is going to remain in the United States of America," Sanders retorted. "You know, Donald Trump is not somebody who believes in democracy.
"Whether women are going to be able to continue to control their own bodies, whether we have social justice in America, we end bigotry — around that, I think, we have got to bring the entire progressive community to defeat Trump or whoever the Republican nominee will be."
No politicians are above reproach, but somehow Trump being reelected is a still a real possibility. Hopefully, the Democratic Party will use everything in their arsenal to keep conservatives from taking over the White House.