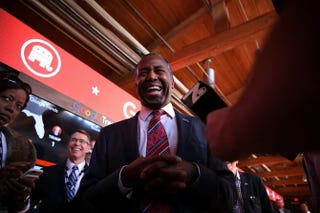 It seems that Ben Carson's run for president is all but over. On Wednesday the retired neurosurgeon announced to his supporters that he does not see a "path forward" and will not be attending Thursday's debate in Detroit, the Washington Post reports.
According to two Republican sources familiar with Carson's plans, however, he will not formally suspend his campaign. He will instead make a speech about his political future on Friday at the Conservative Political Action Conference in Maryland. 
For all intents and purposes, however, the Post notes, his candidacy is all but over, following his disappointing showing on Super Tuesday. 
"I do not see a political path forward in light of last evening's Super Tuesday primary results," Carson's statement reads. "However, this grassroots movement on behalf of 'We the People' will continue. Along with millions of patriots who have supported my campaign for President, I remain committed to Saving America for Future Generations."
As the Post notes, the decision comes after months of trouble in the Carson campaign, with infighting among staff and strategy shifts that sent the once hopeful candidate who was a conservative superstar into a downward spiral. 
Read more at the Washington Post.