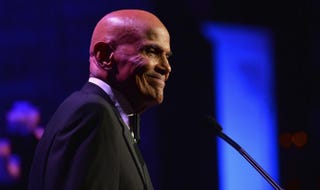 Harry Belafonte and the Martin Luther King Jr. estate have settled a lawsuit on terms that allow Belafonte to keep several documents he acquired during his friendship with the civil rights leader, the Associated Press reports.
The singer sued the estate in Manhattan federal court in October to establish rights to certain documents, The Root reported earlier.
At issue were three papers that Belafonte says were passed on to him by King himself; by his widow, Coretta Scott King; and by King's close aide Stanley Levison.
But King's heirs—Martin Luther King III, and Bernice and Dexter King—alleged that the papers were taken without permission. Belafonte, who reportedly helped the King family financially during the civil rights movement, said he was hurt by the allegation. He filed court papers asking a judge to declare him the owner of the papers.
The suit said that Belafonte was preparing to auction the items in 2008 when the estate "astonishingly" blocked the sale, AP reports.
Read more at the Huffington Post.