Behind every incredible look a celebrity wears onstage or on-screen is a creative visionary. For instance, if you were lucky enough to catch the final stop of Beyoncé's 2016 Formation World Tour at the MetLife Stadium in New Jersey, you'd no doubt remember Queen Bey strutting out in a voluminous gold hooded bubble coat, which she then dramatically tossed off to reveal a sequined Ivy Park jersey.

Toheeb Jimoh Talks The Power, Acting With Toni Collette, & Ted Lasso on That's So Random
Or maybe you recall the TLC-inspired moment from Cardi B's dance team at this year's Coachella, channeling crazy, sexy, cool vibes in a variety of midriff-baring, all-white-everything separates while flanking the newly minted star?
G/O Media may get a commission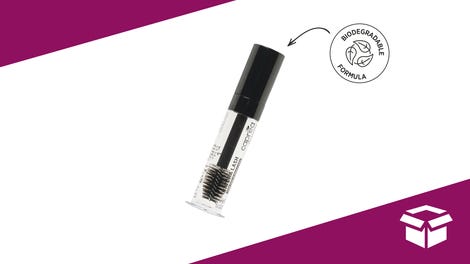 It's $8
20% Off Lash + Eyebrow Serum 2.0 - Caprea Beauty
Or perhaps you were watching the 2018 BET Awards on Sunday night, when emerging artist H.E.R. sang her heart out wearing a blue-on-blue parachute-inspired ensemble, stealing the show—and our hearts—with her beautiful R&B ballads and post-millennial b-girl style?
All of these looks were created by celebrity fashion designer Brea Stinson, who has made a name for herself as stage couturier to megastars from Jay-Z to Stevie Wonder. After years creating looks for Missy Elliott, Zayn Malik, Rita Ora, Demi Lovato, TLC, DJ Khaled, 50 Cent, Will Smith and more, on Friday, Stinson was honored for her talent and influence at the annual Culture Creators luncheon in Los Angeles.
The honor placed Stinson alongside industry legends and well-known names like Sylvia Rhone, Jemele Hill, choreographer Fatima Robinson and Black-ish creator Kenya Barris. But the in-demand designer's journey from her hometown of Detroit to her downtown L.A. atelier, Stinson Haus, wasn't always star-studded.
In fact, Stinson's fashion education started at home: Both of her parents worked in fashion and retail, which gave her early experience in trend watching while teaching herself to sew on her grandmother's sewing machine, as Stinson explained during a chat with The Glow Up: "I just learned by doing it—messing up and start over. ... My mother was a big influence, because she always had Elle and Vogue and Essence in our house growing up. ... [Fashion] was just kind of a normal thing in my household."
Stinson first tried her hand at design during high school, sketching out ideas for homecoming dresses for friends, which were then brought to life by a neighborhood seamstress. The experience gave Stinson, a teenager already in love with the style of icons like Mary J. Blige and Lil' Kim, her first taste of being a designer.
Stinson continued cultivating her craft at Clark Atlanta University, where she wisely pursued a degree in business while taking electives in fashion merchandising and marketing. She also became a fixture in the campus's popular homecoming fashion show and started a side hustle taking custom design orders from classmates.
"It was just exciting—I loved the attention I got from it, and then it was just a way for me to survive college as well," she said. "I would take Levi jeans and turn them into skirts, and I was doing all of the J.Lo rhinestone belt buckles and bandannas. And so, I would sell those things, and that really helped me to survive college."
But Stinson can also credit Clark Atlanta with the first of what would become many big breaks. After graduation, a classmate introduced her to celebrity stylist Tameka Foster, who was then styling Toni Braxton, Lauryn Hill, Ginuwine, Patti LaBelle and Foster's future husband, Usher, among others.
"And so my classmate introduced me to her, and I'm thinking, 'Oh, I'm going to have her put one of my skirts on Lauryn Hill, and then I'm gonna be rich,'" Stinson said, laughing. "And [Foster] was just like, 'No. Come to set, and bring your sewing machine. We need some alterations."
Stinson soon became a vital part of Foster's team, quickly graduating into the role of the stylist's key assistant and working closely with her for several years, even after relocating to New York. "I was the person that would go to all the showroom and do all the requests and pull the clothes and then set up on set, and so I was able to learn a different side of the industry," Stinson recalled. "I never really knew that 'stylist' was a career, so it taught me a different side of the business."
From Foster, Stinson also learned the importance of great tailoring and classic lines, even while creating fashion-forward pieces.
She definitely taught me the value in classic pieces—if you're going to create something from scratch, you want the client to be able to look at it two to three years from now and not feel embarrassed because it was so trendy. And so I was able to learn to fine-tune those things so when you look back at it, you can rest knowing that this could possibly be somebody's iconic picture, because we did something classic.
Years later, it's a lesson Stinson still applies, even while known for her heavily embellished and stage-ready designs, telling us:
It is an interesting place where I reside. I'm from Detroit; the fashion there is very much rhinestones and over-the-top and matching. So I feel like I take a lot of what the fashion was there that I grew up in, and that goes into my stage pieces. ... But there's a part of me that I got from my fashion styling years where I learned about classic lines and staple pieces, and what I've been doing is just taking those and embellishing [them] and making it super extra. So when you break those pieces down, they're still very classic.
During her time under Foster's tutelage, Stinson not only sharpened her skills as a stylist but also became experienced in on-the-fly designing, since many of Foster's celebrity clientele required original looks for their many stage appearances. The experience would serve Stinson well when, soon after striking out on her own, she got an opportunity to work with a mystery client.

"I got on a plane with a carry-on, thinking I was going to be in L.A. for maybe a week. ... They set me up with this kind of Project Runway task: They gave me a picture of a Gareth Pugh pant and [were] like, 'We need you to make a version of this pant for a child'—and I had four days to do it," she recalled.
That child was a "Whip My Hair"-era Willow Smith, and that carry-on bag lasted Stinson several months before she made the choice to relocate to Los Angeles in 2010. She hasn't looked back since—or ceased her momentum in becoming one of the most in-demand celebrity designers in the game. Today, Stinson is the go-to for artists who want a showstopping look, often in seemingly impossible time frames—which leads us back to that iconic gold coat for Beyoncé. As Stinson shared with us:
Marni [Senofonte, Beyoncé's longtime stylist] calls me, and she says, "I wanna do a jacket that's a combination between a bubble jacket and a parachute ... and it needs to be gold because we're changing the entire last show for the [Formation] tour to yellow and gold." So, this was 3 or 4 in the afternoon, and she's like, "And we kind of need it today, because my assistant is getting on a flight at 6 a.m. ... Oh, and I need a sketch."
Ever the professional, Stinson relied on quick research and even quicker reflexes, drawing inspiration from legendary designer Norma Kamali's famed parachute collection and high-end outerwear company Moncler to create a custom design for the most famous star in the world in less than 12 hours—and yes, she made it in time for that 6 a.m. flight.
"But will she wear it?" Stinson wondered, anxiously scrolling through Instagram the following evening to see if her creation would actually make it onstage—always an occupational hazard. Her answer came hours later in the form of an unexpected text.
"A friend of mine from New York, she was in the audience, and she must've been in the first or second row," she said. "She sent me a picture and was like, 'Is this your coat? As soon as I saw it, I knew it had to be your coat, because I recognized the fabric from IG.'"
It was the kind of magical moment that designers dream of, and one that truly makes the hustle worthwhile. But in our current Insta-famous creative culture, if there's one thing Stinson wants us to know, it's that the hustle has always come first—and always will.
[People] think that I'm hanging out with celebrities, I'm going to lunch and I'm showing up at the concerts. But I'm in one of the only 24-hour buildings in downtown [L.A.] for a reason, and people don't get the gist of the work—and the sacrifice—that goes into these big reveal moments. This is an exciting job, the rewards are great, but there's a lot of dedication and a lot of hard work that goes into it. It's not as simple as an Instagram post.