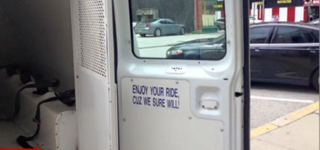 Just months after Baltimore resident Freddie Gray was fatally injured while being transported in the back of a police van, city officials are investigating a photograph of a sign inside the rear door of a similar transport vehicle that reads, "Enjoy your ride, cuz we sure will," CNN reports.
The image has emerged amid smoldering tensions over Gray's death from the injury he suffered in police custody. His death ignited fiery protests in Baltimore over allegations of police brutality against blacks.
The medical examiner found that Gray suffered a fatal neck injury in April in the rear of a police transport van that made several stops. Six Baltimore police officers were indicted in connection with the death.
Baltimore Police Sgt. Jarron Jackson quickly condemned the sign, which came to light Thursday.
"The nature and the posting of the wording is both concerning and unacceptable," Jackson said, according to CNN.
CNN affiliate WBAL TV reported that the sign was photographed Tuesday near the Central District Police Station, the report says.
Read more at CNN.