The images of the African-American women seen on Aunt Jemima pancake boxes through the years go hand in hand with the brand in more ways than one, and that's why the brand's current owner is being sued for royalties in a lawsuit filed on behalf of descendants of two Aunt Jemima models, USA Today reports.
Descendants of Anna Short Harrington say that both she and Nancy Green were Aunt Jemima brand ambassadors, so to speak, back when the product was first introduced to American consumers in the late 1800s all the way through the middle of the 20th century. The family is claiming that both Harrington and Green not only lent their images to be used for advertising but also tweaked the recipe that still serves as the culinary backbone for the pancake mix today.
"The federal suit, filed in Chicago in August by two great-grandsons of Anna Short Harrington, says that she and Green were key in formulating the recipe for the nation's first self-rising pancake mix, and that Green came up with the idea of adding powdered milk for extra flavor," the news site reports.
Quaker Oats, the current owner of the brand, is contesting the claims put forth in the lawsuit and says that the Aunt Jemima image never represented one specific person. "The image symbolizes a sense of caring, warmth, hospitality and comfort, and is neither based on, nor meant to depict, any one person," Quaker Oats said in a statement. "While we cannot discuss the details of pending litigation, we do not believe there is any merit to this lawsuit."
Even though the company says that no such contracts existed between the brand and the Aunt Jemima models, the descendants point to television advertisements that reveal the women played a larger role in building the product and the brand than the company would have people think.
"One ad, which shows Green serving a handsomely dressed white family, says that only she has the recipe to mix four flours—corn, wheat, rice and rye. Another calls it her 'magic recipe' to 'turn out dese tender, 'licious, jiffy-quick pancakes,' " the news site reports.  
G/O Media may get a commission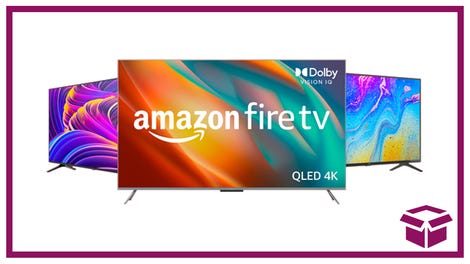 Ooh. stunning.
New Amazon Fire TVs
Read more at USA Today.