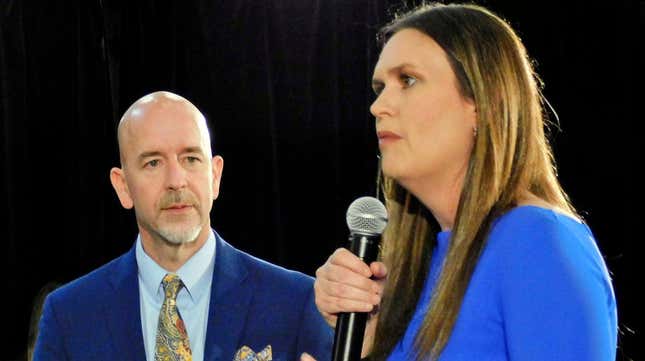 Just months after Arkansas Gov. Sarah Huckabee Sanders decided to follow in Ron DeSantis' footsteps by signing bills that severely limit what educators can teach, the state's Education Department has removed course credit for an AP African American Studies class.

Courtney B. Vance in Heist 88 Is Our Black TV Pick of the Week
The Education Department's communications director, Kimberly Mundell, has verified that the course won't qualify for early college credit this upcoming school year. Teachers can still offer the class, but it won't have the same impact on student's grade point average as other AP courses offered in Arkansas.
Mundell told KHBS-TV that the course is still undergoing revisions:
"The department encourages the teaching of all American history and supports rigorous courses not based on opinions or indoctrination...Arkansas law contains provisions regarding prohibited topics. Without clarity, we cannot approve a pilot that may unintentionally put a teacher at risk of violating Arkansas law."

In January, Sanders signed an executive order which forbids "indoctrination and critical race theory" in schools. Then in March, Sanders signed the LEARNS Act which limits classroom curriculum regarding gender, sexuality and race. The executive director of communications for the College Board, Holly Stepp, spoke out against the Education Department's decision:
"On this first day of school, we share in their surprise, confusion, and disappointment at this new guidance that the course won't count toward graduation credits or weighted the same as other AP courses offered in the state. College Board is committed to providing an unflinching encounter with the facts of African American history and culture, and rejects the notion that the AP African American Studies course is indoctrination in any form."

Earlier this year, the College Board was criticized for including reparations, Black Lives Matter and Black queer studies in its course. The Little Rock School District released a statement saying that they just learned about the change this past weekend.
The statement also explained that the district will move forward regardless of the setback. "Rest assured, we are actively working to ensure that our students continue to receive a well-rounded education that includes diverse perspectives and meaningful learning opportunities," the statement read.