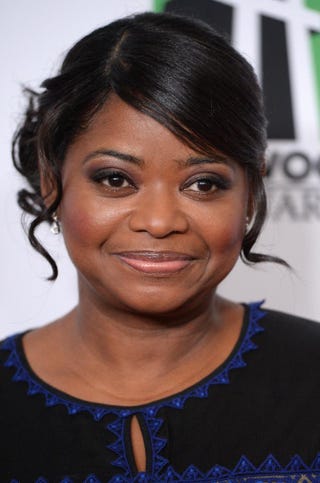 As it turns out, not everyone is excited about Octavia Spencer's new gig as Jessica Fletcher in NBC's remake of Murder, She Wrote. 
Revered actress Angela Lansbury, who was the original Jessica Fletcher, thinks "it's a mistake" to refer to the new series by the old name.
"I think it's a mistake to call it 'Murder, She Wrote,'" Lansbury said, according to the Associated Press, "because Murder, She Wrote will always be about a Cabot Cove and this wonderful little group of people who told those lovely stories and enjoyed a piece of that place, and also enjoyed Jessica Fletcher, who is a rare and very individual kind of person."
Lansbury gained fame through the famous TV drama for which she earned about a dozen consecutive Emmy nominations. "I suddenly became a worldwide-known character as Jessica Fletcher and really built an enormous audience, which I have to this day," the 88-year-old star said in a telephone interview. "That was the thing that really made me a star in the minds of everybody."
As for the reboot and Octavia Spencer? Well, Lansbury admires the up-and-coming African-American actress's work but still thinks they should refrain from using the original title.
"I saw [Spencer] in The Help and thought she was absolutely wonderful, a lovely actress," Lansbury said. "So I wish her well, but I wish it wasn't in 'Murder, She Wrote.'"
"I'm sorry that they have to use the title 'Murder, She Wrote,' even though they have access to it and it's their right," she added.
Read more at the Daily News.