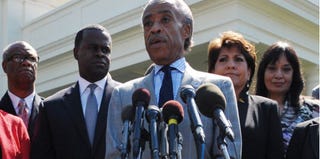 Civil rights activist the Rev. Al Sharpton and the CEO of Barneys, Mark Lee, had a closed-door meeting to discuss recent allegations of racial profiling at the New York department store, the the Huffington Post reports.
The two met at Sharpton's National Action Network in Harlem.
"We had a very candid and open meeting today to begin a dialogue," Sharpton said after the meeting. Lee said a preliminary investigation of the incident showed no employee fault. He added that the store does not tolerate discrimination and that he wants "to be a part of the solution" to end racial profiling.
Read more at the Huffington Post.