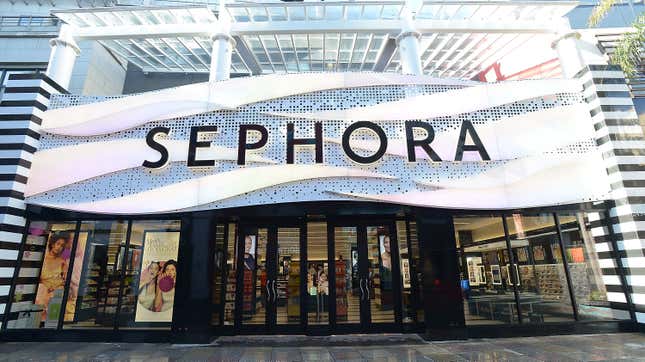 Sephora, you're probably going to need more than a morning for this.
After singer-songwriter (and former employee) SZA put America's favorite beauty emporium on blast in early May following a racial profiling incident at its Calabasas location, we expected a requisite grand gesture was soon to follow.
Comedian London Hughes Talks New Book, Parents Watching Her Very Sexual Comedy, & Beyoncé
And as anticipated, Sephora is taking action. Last week, the beauty brand announced it would be suspending operations on the morning of Wednesday, June 5 to conduct companywide "inclusion workshops."
As read on Sephora's Beauty Insider Community page:
On the morning of 6/5, every Sephora store, distribution center, and corporate office in the US will close to host inclusion workshops for our employees. These values have always been at the heart of Sephora, and we're excited to welcome everyone when we reopen. Join us in our commitment to a more inclusive beauty community.
While the humiliation of a black client who turned out to also be a very high profile one was presumably the impetus for Sephora's mandatory workshops, at least one commenter (seemingly, an employee) claims the initiative has long been in the works, making the SZA incident an ironic coincidence. But another former employee claims the incident was far from isolated, as during their employ they were "routinely" directed to watch black shoppers, for fear of shoplifting.
Tsk, tsk, Sephora. Not a good look.
But perhaps some of the most striking insights came from Sephora's online "Beauty Insider" community, which indicated that while black clientele may receive unnecessary attention as part of their in-store experience, middle-aged and older clients are often ignored altogether.
As one Chicago-based client recounted:
From what I can tell, women over 40 are a fairly large part of your clientele, and you do not treat us very well. At all. A few weeks ago, I stood in line in Lincoln Park while two sales clerks waited on two customers in their twenties who were not even beauty insiders. The clerks took a lot of time with them and basically begged them to take samples. When I got up to the counter, I got nothing but brusque service. ... I cannot imagine any reason for the difference in treatment except my age. ... it seems like you are missing one group that is right under your nose — women between the ages of 40 and 80+. ... why do you regard our business as so unimportant?
"I'm guessing they don't care," wrote another. "They're happy to take our money online and keep the stores hostile for 40+ customers."

Another Rouge-level Beauty Insider (Sephora's highest tier) commented:
I think that Sephora has decided to go in another direction strategically. For some reason, they have given up on trying to attract or serve the 40+ group. It's an interesting strategy to me because I have several friends in this age group who buy a lot of makeup and hate Sephora stores because of the customer service. It makes us all feel old and unvalued. ... Going to my local Sephora store always brings me down, and I am not going to spend 1000+ every year at a place that makes me feel bad.
"I feel exactly the same way!" another responded. "I'm 68 and I feel young. As the baby boomers age, we need more attention and you need the retention of these customers! They have purchasing power. And we will go to whomever will commit to our needs."
Other commenters pointed out Sephora's general lack of mature store associates, being automatically "age-profiled" out of more daring or colorful makeup options—or worse, told that those options are not "age-appropriate." And then, there's the fact that skincare targeted to clients over 35 is typically lumped into one amorphous category, often without trained associates to best discern what is most effective at each age—as if the needs for 35 and 80-year-old clients are the same.
Of course, there are longer-standing issues, like Sephora's tendency to primarily focus on diversity in the context of racial and sexual identity in its stores and advertising, while ignoring other differences, like special needs, skin diversity (acne, hyperpigmentation, birthmarks, texture, wrinkles). And as any faithful Sephora shopper of color knows, the store rarely if ever provides a range of skin tone options in its coveted samples (and samples for men are sporadic, at best).
And while y'all are sweating K-Beauty, why are there still only a handful of black-owned brands, Sephora???
Can all of these issues be tackled in a single morning of inclusion workshops? Doubtful—and frankly, we're a little insulted at the suggestion. While we've given Sephora kudos for past diversity efforts (notably, the chain is one of the few to offer classes exclusively for trans women, though only at select locations), it's clear the company has some significant work to do on its corporate culture and priorities—including making its of-the-moment aesthetic more welcoming to a pre-millennial crowd.
Updated: Tuesday, 6/4/19 at 9:59 a.m., ET: Speaking with Glamour, Sephora CEO Deborah Yeh spoke on Wednesday's diversity training, calling it only the beginning as the company seeks to create a more inclusive environment.
"Through this, we'll look to begin a dialogue with our 16K+ US employees about what inclusivity and values mean to Sephora," she said. "And we'll plan to sustain this dialogue with future training moments for our fleet."
Additionally, the company issued a statement on its concurrent "We Belong to Something Beautiful" campaign, which many believe was the result of the racial profiling incident involving SZA.
The statement read:
While it is true that SZA's experience occurred prior to the launch of the 'We Belong to Something Beautiful' campaign, the campaign was not the result of this tweet. However, it does reinforce why belonging is now more important than ever. Our entire organization is excited to set aside this time to re-commit to building an environment of inclusion. We'll be discussing what it means to belong, across many different lenses that include, but are not limited to, gender identity, race and ethnicity, age, abilities, and more. This week marks the first step in our journey, and with the goal of ensuring everyone feels welcome in the beauty category, we hope that We Belong to Something Beautiful helps further foster that belief, for the benefit of our clients, for the betterment of the industry and our communities at large.