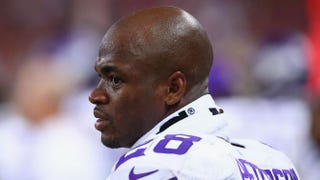 While the NFL and the state of Texas are deciding how many books to throw at Minnesota Vikings running back Adrian Peterson if he's convicted of child-abuse charges, sources tell ESPN that Peterson has yet to fully grasp the enormity of his situation and still believes that there's a chance he may play football again this year.
After two reports of child abuse surfaced in the past weeks, Peterson was deactivated from the team. Peterson faces a child-abuse charge in Texas for reportedly beating his 4-year-old son with a switch. Peterson has not denied his involvement in the incident, claiming that he believes in stern punishment, but he has stated strongly that he is not a child abuser.
According to NFL sources who spoke with ESPN, the likelihood that Peterson will play again this year is dismal at best, and his NFL future remains uncertain.  
ESPN notes that the Pro Bowl running back "tweeted Friday that he passed a lie detector test"—which, according to multiple sources, proves that he "really doesn't get it."    
Team sources who spoke with the sports channel noted that the Vikings don't have Peterson in their future plans, and the Vikings have not said whether they plan to activate Peterson this year.
During a Friday news conference, NFL Commissioner Roger Goodell said that child abuse was a violation that the league would harshly punish, ESPN reports. 
Read more at ESPN.