It's only fitting that Aaron McGruder,The Boondocks creator and executive producer, would take to Facebook to bid fans of his hit cartoon farewell, since it was here that they got a peek into what was brewing behind the scenes.
"As the world now knows, The Boondocks will be returning for a fourth season, but I will not be returning with it," he wrote on the Facebook wall of his new project, Black Jesus. 
Last week McGruder used the Jesus Facebook page to let fans know that The Boondocks page had been "hijacked" and that none of the posts about season 4, premiering April 21, were coming from him.
After The Root made calls to Sony Pictures Entertainment and Adult Swim inquiring about the status of McGruder's involvement with the show, Sony issued a press release stating, "This season was produced without the involvement of Aaron McGruder, when a mutually agreeable production schedule could not be determined."
McGruder has been very tight-lipped about his departure, using only the Black Jesus Facebook page as a sounding board and, today, as a place for closure.
G/O Media may get a commission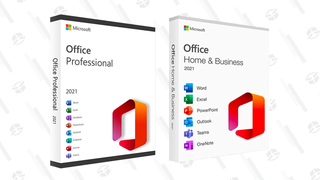 89% off
Microsoft Office Professional 2021 Lifetime License
"I created The Boondocks two decades ago in college, did the daily comic for six years, and was showrunner on the animated series for the first three seasons," he wrote.
"The Boondocks pretty much represents my life's work to this point. Huey, Riley, and Granddad are not just property to me. They are my fictional blood relatives. Nothing is more painful than to leave them behind."
The news of McGruder's departure hit fans like a kick to the stomach, with many taking to Twitter to express their displeasure over McGruder's departure.
From the outset, The Boondocks was brash, bold and controversial—all the qualities that McGruder intended.
"It was important to offend, but equally important to offend for the right reasons. For three seasons I personally navigated this show through the minefields of controversy. It was not perfect. And it definitely was not quick," he wrote. "But it was always done with a keen sense of duty, history, culture, and love. Anything less would have been simply unacceptable."
And what's next for McGruder?
"As for me, I'm finally putting a life of controversy and troublemaking behind me," he wrote. "with my upcoming Adult Swim show, BLACK JESUS."
Read the entire post here.