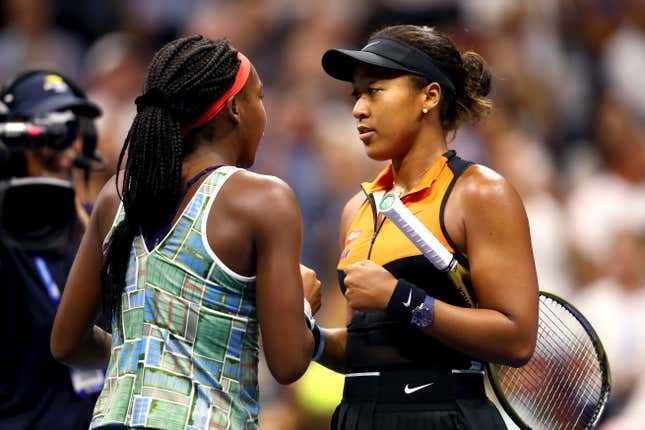 There's no doubt Naomi Osaka's play was brilliant. But on Saturday, it managed to be the least remarkable thing about her.
Osaka, the world's top-ranked woman tennis player, handily defeated 15-year-old Coco Gauff in the third round of the U.S. Open, 6-3, 6-0, to continue her defense of the Open title. But it was what Osaka did afterward—what she and Gauff shared with the world—that will burn brightly in people's memories of that match.
Upon winning, Osaka walked over to Gauff, who was packing up her gear, en route to the locker room where she would confront the emotions of the match on her own. In tennis, the winner of the match gets to address the crowd during a live interview; their opponent is left to make as graceful an exit as they can, processing their feelings as best they can before facing reporters at a post-match press conference.
Breaking tradition, Osaka asked Gauff to join her for the on-court interview.
"These people are here for you," Osaka told Gauff, who initially declined the opportunity because she was afraid she'd cry on camera. But Osaka wanted to give Gauff a chance to address the crowd that had, for much of the match, been loudly cheering for the young underdog.
"I think it's better than going into the shower and crying," Osaka told Gauff. "We have to let these people know how you feel."
Speaking to reporters at a presser after the match, Osaka explained her rationale for asking Gauff to join her. From the Washington Post:
"[I]t was kind of instinct because when I shook her hand I saw she was kind of tearing up a little, then it reminded me how young she is," Osaka said. She said she figured that "normal people don't watch the press conferences unless they're fan-fans," and so, "I was thinking it would be nice for her to address the people who watched her play." And: "For me, I just thought about what I wanted her to feel leaving the court. I wanted her to have her head high and not walk off sad." And: "I feel like the amount of media on her now is kind of insane, so I just want her to take care of herself."
In a sport that values gentility as much as it respects power, that prizes grace in its champions, what Osaka and Gauff shared was far more poignant, far more surprising, and far more resonant: it was sisterhood. It was deeply rooted: six years apart in age, the two athletes had practiced in the same facility in Florida. Their fathers are well-acquainted and speak to each other often, according to the Washington Post.
"You guys raised an amazing player," Osaka said during the interview, fighting back tears as she addressed Gauff's parents in the stands. "I remember I used to see you guys train in the same place as us, and for me the fact that both of us made it, and we're both still working as hard as we can, I think it's incredible."
But the moment held extra weight as a fitting coda to last year's Open final, when Osaka and her opponent, Serena Williams, were prevented from sharing a similar act of sisterhood.
A year ago, Osaka endured a torrent of boos from the crowd following her U.S. Open win over her idol Serena Williams; but the boos were less about her victory than they were about Williams' shocking treatment at the hand of a court umpire.
Williams was clearly upset about the turn of events, as were tennis fans at Flushing Meadows and all over the world: Osaka would have likely beat Williams without the referee's interference, but as it stood, it was the worst-case-scenario for any major championship: an ump whose intrusive and unusual calls decided the match. Williams was rightfully angry at the outcome, but through the bitterness of the moment, she consoled and congratulated Osaka, embracing her at the podium and praising her play.
Addressing the incident this past summer in Harper's Bazaar, Williams said she was haunted by the thought of robbing Osaka of her moment—"something she should remember as one of the happiest memories in her long and successful career."
Reaching out to Osaka via text days after the match, Williams wrote, "I would love the chance to live that moment over again. I am, was, and will always be happy for you and supportive of you. I would never, ever want the light to shine away from another female, specifically another black female athlete."
Osaka responded with the sort of grace we now know to be characteristic of her: "People can misunderstand anger for strength because they can't differentiate between the two," she wrote, according to Williams."No one has stood up for themselves the way you have and you need to continue trailblazing."
It was, in private, a moment of sisterhood many had longed to witness between the two black women players on the court. To see Osaka beaming in the light of defeating Williams, the greatest tennis player of all time, a rival who, when she embraced Osaka at the net, made her "[feel] like a little kid again," she said at the time.
At the time, I wrote that tennis fans were robbed—and I still very much feel that way. But I underestimated the generative power of Osaka's grace: that what had been taken from her would always be far less than what she could create.
Serena and her sister Venus Williams have a finer understanding of sportsmanship and grace than many of their contemporaries have simply because the sport, unaccustomed and at many turns, unwelcoming to them, has demanded more of it from them. This—along with their superior play—undoubtedly has impacted the players that have come up after them: the Sloan Stephenses, the Noami Osakas, the Taylor Townsends, the Coco Gauffs.
It's certainly possible that, even without last year's dreadful final, Osaka would have extended the invitation to Gauff at the end of Saturday's match. I don't believe there to be one single, bright line connecting Williams' displays of sisterhood to Osaka's—that without the former, the latter wouldn't exist. In fact, the bulk of the evidence suggests that this is simply who Osaka is: ruthless on the court, but deeply compassionate to her core.
As Gauff said later about Osaka, "for me, the definition of an athlete is someone who on the court treats you like your worst enemy but off the court can be your best friend."
Still, it feels deeply gratifying to see Osaka bloom in the ways she has since last year's final, and the ways she has made a name for herself as a player and as a person. In putting the focus on Gauff after the match, in underscoring their sisterhood when she could have simply reflected on her own hard-fought victory, Osaka's own budding legacy is coming to light.