ABOUT REBECCA WALKER
I'm a writer, mom, speaker, cultural critic, editor, and all around intellectual mess-talker. I'm a multi-platform catalyst who tweets the VMAs live while reading a book on quantum physics, pondering the new Rick Owens collection, and posting articles about the Chinese penetration of Africa on Facebook.


WHEN I'M NOT COVETING COUTURE OR TRACKING THE CHANGES IN THE PUBLISHING INDUSTRY
I'm the author of five books including the bestselling Black White and Jewish and the ever controversial Baby Love, both memoirs dealing with race, gender, motherhood, and a bunch of other stuff relevant to the post-civil rights, third wave feminist, postmodern generation. I graduated at the top of my class from Yale and have a secret aversion to writing bios because they seem so, well, narcissistic. That said, I write books and teach writing workshops all over the world—the next one is in Maui in December and next year it's SF, Buenos Aires and Nigeria. You're invited. I also help other people write their books, pitch my own pilots to the networks, and tell my son repeatedly to brush his teeth. 
Would you rather watch "I Love New York" or "Flavor of Love"? "Mad Men"
"Girlfriends," "Living Single" or "Sex and the City"? Tough one. Am I embarrassing myself by saying "Gossip Girl"?
G/O Media may get a commission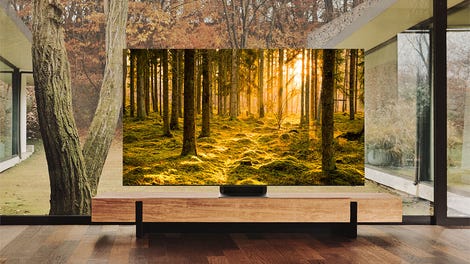 Up to 40% off
Samsung Smart TVs
Who was your favorite character on "The Wire"? Why? Never seen it.

Which Housewife of Atlanta best describes you? Never seen it, but the one that wears the most fabulous clothes, has the most fabulous husband, and can't keep track of her keys. I fancy myself a honey-colored Carrie Bradshaw in her Aidan period—without Big beckoning from the Plaza.
What TV family best describes yours? Ha!

What's your all-time favorite album? Impossible question, but I did listen to Miles Davis' Kind of Blue every day for a year when I was in college.

If the title of any song could describe you, what would it be? "Brown Skin" Lady by Black Star

Duke Ellington or John Coltrane? Coltrane for sure, and his wife, Alice. Any of her albums can count as faves.

What was the first CD you bought? Tracy Chapman. But the first record I bought (yes I'm that old) was "I'm Every Woman" by Chaka Khan. I was in the fourth grade and saved my allowance for weeks.

Favorite album of 2009? Right now I am all about Jay-Z's single "Death of the Auto Tune".

Which artist could sing the soundtrack to your life? NA

Biggie or Tupac? NOT

Maxwell or D'Angelo? Maybe a little of both, maybe.

What's your favorite Spike Lee Joint? Girl 6.

Favorite movie of 2009? I'm still hung up on The Lives of Others from last year, and Schnabel's The Diving Bell and the Butterfly.

Favorite movie of all-time? The Way We Were. Reds. Tess.

Denzel or Poitier? Um, both. And Morris Chestnut.

Denzel in "Mo' Better Blues" or Denzel in "Devil in a Blue Dress"? Denzel in The Great Debaters.

Angela Bassett or Halle Berry? Halle.

"Boyz n the Hood" or "The Wood"? I just can't—the shooting scene in Boyz in the Hood is just too painful to revisit. How about Black Orpheus?

Ossie and Ruby? Or Will and Jada? Beyonce and Jay Z. Gyllenhall and what's her name.

Harlem Renaissance or the Black Arts Movement? Jean Michel Basquiat, Martin Puryear and Adrienne Piper.

Favorite book? Pablo Neruda's book of poems, The Captain's Verses.

What are you reading now? Little Bee, Feminista, Nurture Shock, and Impossible Motherhood