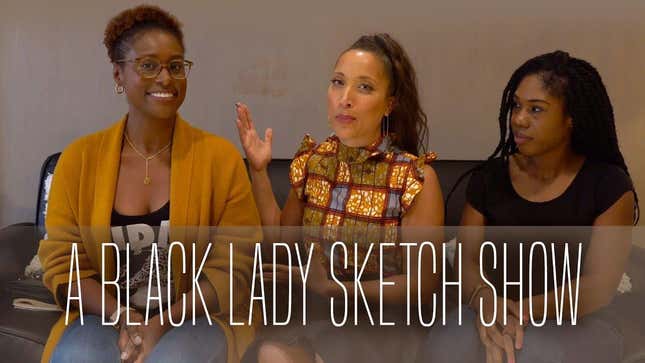 Three more funny black women will be co-starring in a new half-hour sketch comedy series along with creator and executive producer Robin Thede, Shadow and Act reports. A Black Lady Sketch Show, which HBO has described as "the first sketch comedy series written by, directed by and starring black women," will feature "a core cast of black women" along with appearances by celebrity guests.
Tackling A Black Maternal Health Crisis & Embracing Reproductive Justice | The Root Institute
The show already boasts as executive producers Issa Rae and Lauren Ashley Smith, who is also its head writer. Smith was previously head writer on BET's The Rundown With Robin Thede.
But we're now learning more about the "core cast" joining Thede:
Ashley Nicole Black won an Emmy in 2017 for Outstanding Writing for a Variety Special for her work on Full Frontal With Samantha Bee, according to IMDb. Gabrielle Dennis starred in The Game on BET and also had roles in Rosewood, Luke Cage and The Bobby Brown Story, Shadow and Act reports.
And then there's Quinta Brunson, who is known for her viral Instagram and web series — including her debut 2014 series, The Girl Who's Never Been on a Nice Date. In 2018 it was announced that she would be co-starring with Jermaine Fowler in a CBS series produced by Larry Wilmore.
There's still no word yet about when the HBO series will premiere, but we're on the lookout for this one!
Correction: Sept. 16, 2019, 4:45 p.m. ET: This story has been edited to remove unattributed text and add fuller sourcing.