Every Thanksgiving, families across America gather for the annual tradition of overeating, wading into futile political debates and resurrecting and rehashing yesteryear's drama. While traditions may vary from home to home, some Thanksgiving Day struggles are universal. 
Here are 43 thoughts you may be able to relate to this Thanksgiving:
1. Dang. It's only 6:31 a.m., and the mass "Happy Thanksgiving!" text messages have already begun?
2. Dear mass-holiday-text offenders, we all know you don't mean, "Hey, I just wanted to let you know that I'm thinking of you." You mean, "Hey, everyone, think about me!" 
3. Narcissists. 
4. I despise anyone who doesn't have the decency to turn off the "reply all" function when responding to mass holiday texts.
G/O Media may get a commission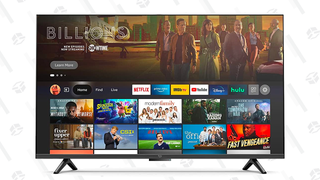 22% off
Amazon Fire TV - 50" Omni Series 4K - Early Access Deal
5. OMG! I'm stuck in a never-ending loop of "Happy Thanksgiving!" texts from random phone numbers!
6. OK, my vegan mac and cheese didn't go over well last year. Cousin Kenneth had everybody calling it "mac and tease" and "mac and girl, please." That's cool.
7. They've specifically asked me not to bring a dish this year. That's fair.
8. But I can't show up empty-handed. They'll talk about me for that, too.
9. Am I wrong for regifting this cheap bottle of wine someone dropped off at my house for my last party? 
10. Whatever. Someone can just bring this bottle to his or her next get-together. The whole purpose of cheap bottles of wine is to regift them. Cheap bottles of wine are the gift you keep on giving. 
11. Hey, "Weird Handsy Dude," I'm pretty sure you're not my uncle. Watch me juke this hug.
12. Nope, I am not Patsy's child. 
13. I done already told you, I don't know no Patsy, Weird Handsy Dude.
14. Whose kids are these?
15. Of all the delicious meats in the world, is turkey really the one worth gathering around?
16. Who's gonna tell Aunt Ethelene that no one has ever requested ambrosia salad?
17. No one. 
18. Ever. 
19. I'm just here for the dressing. 
20. To be distinguished from "stuffing."
21. I'm glad no one here is foolish enough to add raisins and oysters and other foolishness to the dressing. 
22. Dinner was supposed to be ready "in about another 30 minutes" for the last two hours.
23. Can we hurry up and serve dinner so folks can talk about something other than how skinny/fat I've gotten?
24. No matter how much/little I put on my plate, someone's going to say that I need to eat more/ less. 
25. Can y'all let me live?
26. How much time do we have before the Cosby apologists rear their delusional heads?
27. And heeeere come the questions: Why am I not married yet/anymore? When am I going to finish school/get a job? Have I found a church home yet?
28. Never mind. Can someone please bring up Bill Cosby?
29. How many years in a row is Big Mama going to ask me, "How much longer do you plan to wear your hair like that, baby?" I've been natural for 12 years!
30. And heeeere comes Cousin Kenneth with the "Erykah Badon't" and "Lauryn Chill" natural-hair jokes.
31. You know what? I'll bring up Bill Cosby.
32. Ooh, I'll tell you what I'm thankful for this year: this good data plan so I can scroll through my Twitter timeline while I check out of this conversation.
33. I don't know if I'm gonna be able to do this with y'all again in a month. 
34. We need to break holiday season up and spread things out a bit. Can we move Thanksgiving to July?
35. Wayment. Which one of these pies did Aunt Barbara make?
36. Nope. I want the pie Aunt Barbara made. 
37. Yesss. This pie is what I'm talmbout.
38. I'm gonna start my diet in the morning.
39. Next week. 
40. I'm lyin'. This downward spiral is going to last until Jan. 2 at the earliest.
41. That's what New Year's resolutions are for.
42. Is this an appropriate time to let everyone know that I don't need any more knockoff country apple or cucumber-melon body lotions for Christmas? 
43. Seriously, I've got enough discount Bath & Body Works lotion to last me until 2047. 
Happy Thanksgiving!
Akilah Green is a recovering Washington, D.C., lawyer-lobbyist-politico turned TV and film writer and producer living in Los Angeles. She currently works for Chelsea Handler's Netflix talk show, Chelsea. She has also worked as a staff writer for Kevin Hart's production company, HartBeat Productions, and as a consultant for Real Time With Bill Maher on HBO. In addition, she co-wrote and is producing Scratch, an indie horror-comedy feature film, and is a regular contributor to The Root. Follow Green's adventures in La La Land on her blog, Twitter and Facebook.