RZA, GZA, Ol' Dirty Bastard (ODB), Inspectah Deck, Raekwon the Chef, U-God, Ghostface Killah, Method Man, Masta Killa and Cappadonna ... with all those names, Wu-Tang Clan really is the Earth Wind & Fire of hip-hop, and now, they have a docuseries. And it's definitely one to check out, y'all.
Whether you're a longtime fan of the eccentric group or don't know much about them, Showtime's new docuseries will provide a healthy combination of nostalgia, Cliff Notes' history and new knowledge.
In a remarkable moment, the vast majority of the Wu-Tang Clan appeared for the New York premiere of the much-anticipated docuseries. That's right: RZA, U-God, Ghostface Killah, Method Man, Inspectah Deck, Raekwon, Cappadonna and Masta Killa were in the building.
Celebrities filled the red carpet including Dave East, Aldis Hodge, Rev. Al Sharpton, Carmelo Anthony, Keegan Michael-Key, and—omg—motherfucking Nas.

G/O Media may get a commission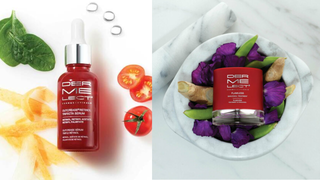 Save $19
Retinol Renewal Kit
I had the honor of attending the New York premiere of the series for the 18th Tribeca Film Festival, where we watched the first two episodes of the four-part series.
Per the series' press release:
As the group marks the 25th anniversary of their breakout debut album Enter The Wu-Tang (36 Chambers), the series looks back on their career, combining intimate and reflective interviews from each of the nine living members with never-before-seen archival footage and performances. The series follows the founding members – RZA, GZA, Ol' Dirty Bastard, Inspectah Deck, Raekwon, U-God, Ghostface, Method Man, Masta Killa and Cappadonna – many of whom were childhood friends in the hardscrabble world of '70s and '80s Staten Island and Brooklyn. Their ingenuity and entrepreneurial spirit brought them together to overcome the poverty, violence and oppression of their neighborhoods. But it was music and their shared lyrical genius that allowed them to form the most recognized musical movement in the world, all while walking the treacherous tightrope that links business with brotherhood.
The title of the doc is immediately acknowledged onscreen as a nod to John Steinbeck's 1937 novel, Of Mice and Men, about a group of migrant ranch workers on the hunt for new job opportunities during the Great Depression. The title is undoubtedly apt, as there's a significant focus on each member's journey toward entrepreneurial enlightenment (i.e. their Wu-Tang Productions label).
Y'all know Wu-Tang is for the children—and they are more than happy to pay their knowledge forward.
"Once you start giving yourself to the industry in a way where they're benefiting and you're not waking up to what's going on—there's a problem," Raekwon told The Root. "So [my experience in this industry over the years has] taught me, yo, 'I don't have to wait to get jerked [around] or handled a certain way'—I want to catch it fast. Now, it's a different time. Kids should know—make a brand out of yourself."
"Determination, dedication and persistence will always overcome resistance," the scientist known as RZA wisely dropped for The Root.
In an authentic series of interviews helmed by Sacha Jenkins, we get an inside look into the Clan's gritty beginnings, their induction into their awakened knowledge of Supreme Mathematics, their ingenious and raw marketing process, growing up in the Park Hill and Stapleton projects, and the moment they knew they had "made it."

"Young black boys from the hood with horrible educations because schools suck—no one expects anything from us," Jenkins told The Root. "No one thinks that we have anything to offer. But then we use our creativity to show the world that we are smart; that we are great storytellers, that we are passionate, that we are creative. That's what Wu-Tang represents to me. It represents struggle, finding a way out of that struggle, and using your life experiences as a model for that."
In addition to an inventory of never-before-seen footage of the group's early rising, Jenkins invited the audience for a seat at the Garrick Theatre while each of the living members watched archival footage and reminisced on good times—similar to a family watching home videos. It's apt since they are a family.

Wu fans are well aware that the group's name is inspired by the 1983 Hong Kong martial arts film, Shaolin and Wu Tang. The running story is that RZA and the late Ol' Dirty Bastard were inspired by the film, and decided to adopt the name. However, in the series, the audience gets a sneak peek into the familiar dynamics between these nine men who have been through it all together as they bicker about who actually came up with the name. There's even some riffing about the film stealing it from them. Love it.
"The tongue is our sword," RZA says at the top of the documentary.
Notable moments during the first two episodes: Method Man returning to humble beginnings when he worked at the Statue of Liberty—and actually taking a broom and starting to clean up after patrons; ODB comparing himself to Patti LaBelle during his infamous MTV profile (a previously televised segment); the heartwarming archived footage from U-God's then two-year-old son's physical therapy recovery after being shot; and RZA retelling the story of how he "zig-zag-zigged" from Prince Rakeem to the RZA (Seriously, that moment was like the gritty hip-hop hero song of a Disney film. We all cheered once he "became" RZA, just through his recounting).
"I think we humanize them," Jenkins told The Root. "So often, you have these celebrities and stars who are on this pedestal. Being able to humanize them like, "Oh wait, they're people, this is relatable,'" he continued. "It has a lot of weight."

"The struggle is real," Ghostface Killah told The Root. "The roaches up in the cereal box, the welfare cheese, having to share your brother's pants to go to school ... It gets no blacker than that. That's real shit."

That is real shit.
After the screening, the audience got a special treat: a live performance from Wu-Tang Clan, who blessed us with tracks such as, "Bring Da Ruckus," "Protect Ya Neck" (Suuu!), "Da Mystery of Chessboxin'," "Triumph," and of course, "C.R.E.A.M." Shit, I went nuts when ODB's first-born son, Young Dirty Bastard, deftly channeled his father's spirit and performed "Shimmy Shimmy Ya."
We really got a whole ass concert, y'all. Peace and blessings.

"The last time we were on this stage [at the Beacon Theatre], it was with Biggie," Method Man confirmed to the enthusiastic audience.
Good times, they were had.
Wu-Tang ain't nothin' to fuck with, but you should definitely fuck with this docuseries.
Wu-Tang Clan: Of Mics and Men will premiere on Showtime, May 10 at 9 p.m. ET/PT.