So you have made the decision to go natural. You are going to just grow out your last touch-up and transition to being 100 percent natural—no more scalp burns and running from the rain for you.
Toheeb Jimoh Talks The Power, Acting With Toni Collette, & Ted Lasso on That's So Random
After your first solo wash during transitioning, you realize that nothing you knew about your hair is true anymore. You need a whole new routine, new go-to styles and a boxful of new products. Finding the right product for your newly discovered texture is not easy, and definitely a process of trial and error.
I'm sure we can all remember our first trip to Target before our inaugural natural-hair wash day. We were on the hunt for anything that promised to define curls, smooth edges and hydrate hair. Almost $100 later, we had a basket full of natural-hair starter products and a small hope that we could manage washing and styling our own kinky hair.
The beginning of the natural process is not for the faint of heart, but we gain strength and confidence with every perfectly executed twist-out and wonderful wash-and-go. Grab that silk bonnet, wide-toothed comb and spray bottle and head down mane memory lane with us as we reminisce about the 15 products we were sure we couldn't live without when we first went natural.
G/O Media may get a commission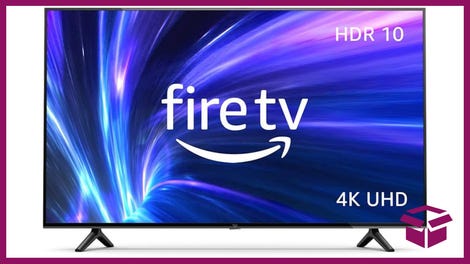 42% Off
Amazon Fire TV 50" 4K Smart TV
Shayna Watson is a freelance style and beauty writer who can be heard saying "Natural hair is a lifestyle" at least once a day. A Pittsburgh native, she currently lives in a shoe-box apartment in Brooklyn, N.Y.—which is fitting, since she really loves shoes. You can check out her personal style musings on A Nu Creature and follow her on Instagram.
Shea Moisture Curl Enhancing Smoothie
This product was the first stop for new naturals. No twist-out was left unsmoothed during the first days of figuring out chemical-free styling. After all the reading up on the need for organic and natural products, it was a perfect way to keep artificial products out of our fresh 'fros.
Kinky-Curly Knot Today Natural Leave-In/Detangler and Curling Custard
This natural leave-in/detangler (used with the curling custard) was the answer to our newly natural prayers. We should be part owners of the brand, given how much of this product we purchased during our early years of transitioning, but it definitely helped with the wash-day detangling process.
Mixed Chicks Sulfate Free Shampoo
Mixed Chicks founders Wendy Levy and Kim Etheredge started the brand from their garage out of a need for products for mixed-heritage hair. New naturals are always on the hunt for products that won't dry out hair or give that heavy, sticky product feel. Because this collection is made with curly, varied-textured hair in mind, it aids in keeping the moisture in while leaving hair feeling light.
Aussie Moist 3 Minute Miracle Conditioner
Those of us who hated the word "moist" just had to suck it up when scooping up this one. Another non-black-hair-specific option, this product promised to condition dry strands in no time. Moisture and conditioning are the No. 1 concern for new naturals after years of slapping on the thick grease post-perm.
Jane Carter Solution Revitalizing Leave-In Conditioner
Jane Carter Solution is one of those brands that have been with us all the way from relaxed to natural. Great for fragile hair resulting from chemicals, it stayed in the product drawer once we went natural as a light leave-in for those very first twist-outs. This product was also perfect for the transition period when new naturals may have been using heat to blend their textures.
Luster's S Curl 'No Drip' Curl Activator Moisturizer
Now, don't act like you didn't rock the activator look while you were transitioning. Sticky hair and constant reapplication were just a part of the process. And even after you made it through the awkward transition stage, this was an early go-to for wash-and-go styling. We can still remember that smell and the inevitable neck drip during those first sprays.
Doo Gro Stimulating Growth Oil
Length checks have always been a part of the "going natural" process. Since shrinkage is a very real part of keeping your hair chemical free, it can be difficult to get an idea of length and growth. For this reason, growth oils and serums are a big part of the first natural month's checklist.
Eco Styler Professional Styling Gel
Where would our edges be without this alcohol-free, maximum-hold styling gel? With minimal flaking and olive oil, it really took those natural updos and goddess braids to the next sleep level. Even for those who have been natural for years, this gel will always make the list.
Organic Virgin Coconut Oil
"Going natural" means more than just the state of our hair. Once we made that decision to stop chemically straightening our strands, we wanted to go back to nature with our products, too. We purchased the first jar of solidified-in-the-cold coconut oil almost immediately. Even with some of the recent claims that coconut oil is not good for your hair, we will always have a half-melted jar in our product drawer.
Ors Olive Oil Smooth-n-Hold Pudding
This product was an interesting hybrid of smoothie, milk and lotion. It could be used for smoothing, and hydrating, and basically as glue when our natural hair just wouldn't get right. We're not sure if it helped tame our tresses during those early days, but we definitely had a half-used jar or two available at all times.
Cantu Shea Butter for Natural Hair
Cantu Shea Butter was there when our relaxed strands needed to be repaired, and it didn't disappoint when we decided to go natural. The company came out with a line geared to natural hair that was sulfate-free and included a twist-and-lock gel to help with those overnight styles.
Carol's Daughter Hair Milk Styling Butter
Lisa Price, founder of Carol's Daughter, started making her products in her Brooklyn, N.Y., kitchen. Two decades later, this brand is a widely known and a staple for women of all color with textured hair. Each of the brand's products specifically addresses a hair concern, like breakage, frizz or thinning hair.
Creme of Nature Argan Oil Shampoo and Conditioner
There are a few oils that you can put in a product that will make naturals come running—on that list are shea, coconut, olive and definitely argan oil. Many of us used Creme of Nature on our relaxed hair in the days before black hair-care products were advertising sulfate- and paraben-free options. This shampoo-and-conditioner combo was a staple during those transition times.
Giovanni Tea Tree Triple Treat Invigorating Conditioner
Tea tree tingle is the natural-hair equivalent to that subtle perm burn we got used to. This deep conditioner definitely let you know it was working when those herbal aromas started tickling your nose and scalp—they weren't lying about the invigorating part. Even if you've been natural for years, this conditioner does the trick when you're looking for a little something extra for your follicles.
Pantene Relaxed & Natural Conditioner
Before Pantene branched out with separate Truly Relaxed and Truly Natural hair-care lines, it had a collection called Relaxed & Natural—sort of a catchall division of the company's brand that advertised a focus on women of color and the needs of their dry hair. We definitely remember using the shampoo and hair mask during the early days of going natural.