A 12-year-old Jersey City, N.J., middle schooler is using his hobby to create amazing items that he then donates as a way to give back to his community.

According to NBC New York, Jaheir Moore loves to crochet, and once he finishes his creations, he gives them away to area homeless shelters and neonatal intensive care units, or NICUs.
Moore first started crocheting after a friend told him about a class at the local YMCA. That was two years ago. At this point, Jaheir has donated dozens of hats, scarves and bags.
Jaheir said he became involved after noticing that "there's a lot of homeless people on the street and they look bitterly cold in this weather."
G/O Media may get a commission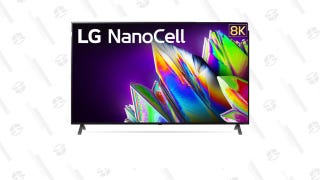 LG 75-Inch 8K TV
According to the news station, it takes him about 20 minutes to an hour to make each item, and he usually crochets every day after school.
Moore is a straight-A student who loves social studies and science, but he hopes to become a top designer some day. Well on his way to achieving his goal, the 12-year-old is currently preparing for his first fashion show, where he's hoping to showcase and model some of his creations. The fashion show is scheduled to be held Feb. 25 at the Ukrainian Community Center in Jersey City.
Read more at NBC New York.