1. At some point during the two-hour layover at O'Hare International Airport on my trip from Pittsburgh to New Orleans last weekend, a supernatural force compelled me to glance up from my laptop and scan the gate around me. There was a shift in the space-time continuum that the universe was attempting to alert me to and my spirit felt it.
All the white people were gone.
Vanished, as if there was some sort of Caucasian-specific rapture, where they all were transported to a Lululemon clearance sale.
Now, being from Pittsburgh has taught me to take such observations with a grain of salt. When you're from a place as aggressively white as the 'Burgh is, anywhere that's even 50 percent black can feel like a NSBE convention. You get so giddy and excited with in-the-flesh blackness that you overestimate its size, which is a statement that is also an unintentional double entendre. So I counted. And at 7:37 a.m. CDT, out of the 200 or so people who were within eyeshot, there were exactly three white people. And one (I think) had Bigen in his beard, so he didn't even really count.
This—the complete and utter lack of white people—would be a recurring theme throughout the weekend. There were none on my flight from Chicago to New Orleans. None waiting for Ubers and Lyfts outside of Louis Armstrong New Orleans International Airport. None in the lobby of the Ace Hotel New Orleans. And, as the weekend progressed, the few I saw seemed to be very, um, cognizant of their surroundings. Basically, they acted like guests. Which is what they were. And which is also what more white people need to learn how to be.
G/O Media may get a commission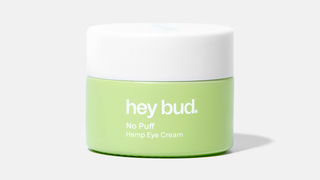 15% off
Hey Bud - No Puff Hemp Eye Cream
2. I know that every black woman in America wasn't at Essence Fest. I know that this is true. My wife, for instance, was home. Also, Omarosa apparently wasn't invited. But it felt like it. It felt like everyone's aunties, everyone's momma 'nem, everyone's sisters, everyone's homegirls, everyone's nieces, everyone's cousins, and literally everyone who has ever been called "Keke" were there.
And, when you see that many black women all in one place, it gives you a greater appreciation for the vast diversity existing within them. There were aunties on church trips selling catfish plates and weed. There were bachelorette parties with matching T-shirts. There were Ph.D. candidates with questionable tattoos twerking on graffiti-decorated park benches. There were millionaire hippies. There was Remy Ma, just chillin', with some pants and shit on. And everyone seemed to be having the time of their lives.
As Luvvie remarked when I ran into her Friday afternoon, it's "the Super Bowl for black women."
3. Related, when I pray now, instead of asking the Lord for the confidence of a mediocre white man, I'm gonna ask Him instead for the self-possession of the one black guy I saw who brought his white girlfriend to Essence Fest. Because wow. That's such an advanced level of fucklessness that he should win a MacArthur genius grant for it.

4. I did not get a chance to experience the real New Orleans. I was only there for two days, and both my schedule and my lack of transportation limited what I was able to do. But I did get a chance to walk through the French Quarter (twice) on expeditions for food, and Bourbon Street, particularly, is so turnt all the way the fuck up that all future references to things being turnt all the way the fuck up need to use it as a benchmark.
5. I was there for 48 hours and managed to have five different types of alligator. Deep fried alligator, blackened alligator, alligator sausage, an alligator po' boy, and an alligator omelet. I might have even had a gator mimosa, but I think that might have just been a Capri Sun. Anyway, I'm very impressed with myself. I also think I gained 17 pounds.
6. The homie Sonali Fernando—whose title at the Ace Hotel is "cultural engineer," which apparently is Swahili for "the tiny person who runs shit" — brought me and Panama to New Orleans as part of the Ace's programming for Essence. Saturday afternoon, I helped facilitate Too Trill Trivia, which is a monthly and black-as-the-fuck trivia competition series founded by Eric Clavo and Terri Coleman.

And then that evening, Panama and I hosted the first ever VSB Live. For the first half hour, Panama gave a hilarious and admittedly impressive rationale for why "Return of the Mack" is the best song ever. (And yes, he actually spoke on stage in a packed room for a half hour to make this argument and it worked.)
When Panama was done, I read an early-as-fuck excerpt from What Doesn't Kill You Makes You Blacker — which is my book and shit and will be released in March. Get ready.

For the last hour, the homie Jouelzy joined us for an interactive discussion spanning from hot sauce to the etymology of hotep.

(Also, our events happened the exact same time an Insecure party with all the cast members was happening in a space 50 feet away from us. The guy who plays Dro is very tall.)
7. While hanging out with the homie Jamilah Lemieux on Friday afternoon, we happened to run into Alzo Slade, one of the founders of the sublime and now iconic Grits and Biscuits. He invited me to their soldout party Saturday night at the House of Blues, allowing me to add "first Grits and Biscuits" to my weekend of perpetual firsts.
Because of some transportation issues—which was a recurring theme through the weekend—I was only able to stay there for an hour. But remember in Interstellar, where because of relativity, an hour on that one planet near the black hole was equivalent to seven years on earth? Well, one hour at Grits and Biscuits was worth 17 regular party hours.
(And yes, I know I used "the homie" three times in a 100-word span just now but I can't think of a better way to describe these people I know and like and shit so stop trying to regulate my homie usage!)
8. Also, at each of the parties I attended, the MC or DJ made a point to get on the mic and remind the fellas that if you want to dance with someone, get their consent first. No just walking up to a stranger in mid-twerk to grind from behind, unless you wanted to get your ass kicked and kicked out. This was a nice touch and shit.
9. Unfortunately, I didn't get a chance to do many of the official Essence Festival things. I didn't go to any concerts at the Superdome or catch any performances at the numerous other venues, and I was only at the convention center—which, all things considered, was basically Wakanda—for an hour or so. I just didn't have that much time. Saturday, for instance, along with the two events I was a part of, Panama and I spent the morning/early afternoon at brunch with some area high school students and their teachers/mentors.
But mainly, in the free time that I did have, I just wanted to walk around, see people I knew, meet people I didn't know and eat glorious foods. Maybe next year I'll do all of the official stuff, but this year I was more interested in the spaces between the events.
10. While in the lobby of my hotel, I overheard another first-time Essence attendee asking a festival veteran if this year was "more lit" than most years because of Girls Trip.
She looked at him and smiled: "This Essence baby. It's always what it is."