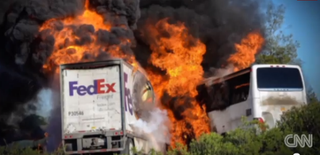 What was supposed to be an exciting day visiting Humboldt State University ended in tragedy as a tour bus carrying California high school students was hit head-on by a FedEx big rig Thursday afternoon, NBC4 reports.
Ten people—the drivers of both vehicles, five students and three chaperones—were killed and more than 30 injured in the fiery collision, according to the California Highway Patrol. The bus, belonging to the California tour bus company Silverado Stages, collided with the FedEx truck and a car near Orland, Calif.
According to the authorities, the truck crossed the centerline, slamming into the tour bus and starting a fire that engulfed both vehicles. There was no immediate explanation of why the FedEx vehicle crossed the center line. An autopsy is expected to determine whether the driver was suffering from a medical condition or was dead before the accident occurred.
About 50 people were on the large tour bus, among them students from the Los Angeles and Riverside school districts. They were headed to Humboldt State's Spring Preview Day over the weekend. The students left Los Angeles' Union Station at approximately 6 a.m. Thursday, according to their itinerary, and were to arrive at the university around 7 p.m, with a trip back home on Sunday morning.
The news station notes that parents were made to complete a form consenting to medical treatment before the students were allowed to board the bus.
Read more at NBC4.