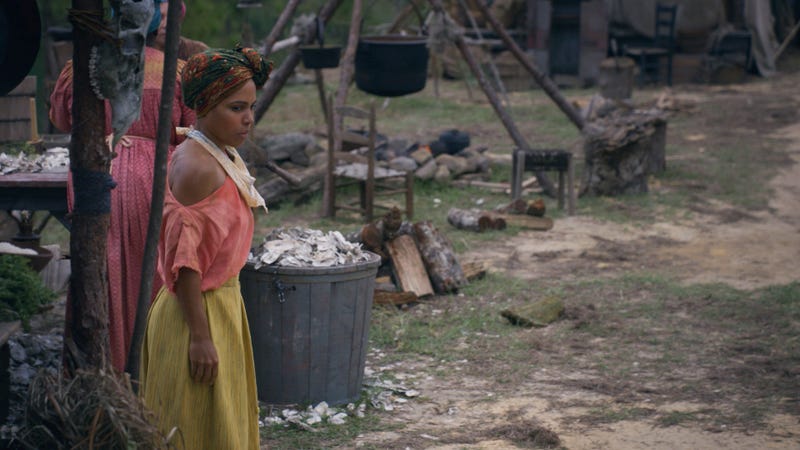 Over the last few years, I have spent a lot of time thinking, talking and writing about the war on drugs, particularly how it affects black women. And it is clear that the writers of WGN's Underground, the exceptional runaway hit show that tracks the movements on the Underground Railroad, have been, too.

There are spoilers here, so proceed at your own risk.
Over the course of two seasons, viewers have been able to witness not just the larger struggle for freedom that enslaved black people fought—and continue to fight—but the more intimate struggle for identity, love and interpersonal relationships that took place behind the blood-soaked cotton walls of oppression.
I have been riveted by Underground's treatment of sex and love. That black women and men still yearned for touch, for release, despite their chains is not something that is often discussed. Showing black bodies as erotic and beautiful and sensual while they're covered literally and figuratively with the scars of white supremacist violence is groundbreaking and necessary work. Read the article "Searching for Climax: Black Erotic Lives in Slavery and Freedom," the brilliant work of Treva B. Lindsey and Jessica Marie Johnson, for more on this.

While there is a clear trajectory from black bodies as erotic and vilified during slavery to black bodies being fetishized and criminalized now, it is the season 2 character arc of Ernestine, played by the incomparable Amirah Vann, that pushes "the underground" squarely into the present as it collides with the war on drugs.

Ernestine has lost everything.

Her son Sam has been hanged to pave the way for Tom Macon's political and racist ambitions.
Macon, her rapist, master of the Macon Plantation in Georgia, is dead—which is a loss of tenuous protection.
James, her son with Macon, has been forced out into the fields after enjoying the superficial privileges of being raised in "the Big House."

Rosalee, her daughter with Macon, ran away to freedom and is risking her life as an abolitionist under the tutelage of Harriet "Moses" Tubman.

And Ernestine, who played "good nigger" for the sake of her children and herself, has been sold by Macon's viciously insecure and jealous wife to a South Carolina plantation. For the first time that we've seen, Stine is in the field, thick scars on her back, suffering abuse from her new lover, Hicks, and fighting the urge to kill herself by breathing in—and subsequently becoming addicted to—laudanum, or "tincture of opium."

This is the reality for many black women battling addiction and being criminalized for it today.

In a previous interview with The Root, Samuel K. Roberts Jr., Ph.D.—director of the Columbia University Institute for Research in African-American Studies, associate professor of history at Columbia's School of Arts and Sciences, and associate professor of sociomedical sciences at Columbia's Mailman School of Public Health—and I discussed this nuanced and painful reality in depth.