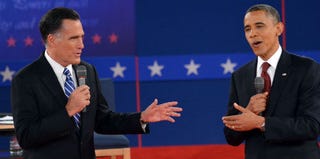 (The Root) — Join CSE, the Madyun Group and The Root in Washington, D.C., tonight as we watch President Barack Obama and Mitt Romney go head-to-head during the third and final round of presidential debates, leading up to Election Day on Nov. 6. (The Root is also hosting a debate watch event at the Aloft Harlem in New York.)
The candidates are locked in a virtual dead heat as the election nears. And with polls opening in just 15 days, tonight's debate, which will cover foreign policy, serves as the candidates' last push before what is expected to be a close race for the Oval Office.
CBS News' Bob Schieffer is scheduled to moderate the debate. And given last week's car bombing in Beirut and the Libyan Embassy bombings in Benghazi, the showdown's main focus seems particularly timely.
Location: Capitale, 1301 K St., N.W., Washington, D.C., 20533 (Orange and Blue Lines to McPherson Square)
Date: Monday, Oct. 22, 2012
Time: 6:30 p.m. to 10:30 p.m.
Previous recommendation: K'Naan Talks Life, Music in Minidoc
Got ideas for The Root Recommends? Send them to recommendations@theroot.com.