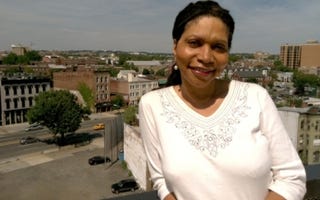 Marsha Coleman-Adebayo vividly recalls a meeting during her early days at the Environmental Protection Agency. It was 1992, and the MIT-trained African-development expert was one of two black employees in the mostly white, mostly male senior ranks. "Come on in, Marsha," her supervisor beckoned as she arrived at the conference room. "We'll make you an honorary white man so you can join us."
Another exasperating memory is that of returning from maternity leave to find that a far less experienced white man had become her boss. When she complained, she said her supervisor responded, "You're an intelligent woman; you knew how not to get pregnant. How can you make that decision and expect to compete with men?"
According to Coleman-Adebayo, such comments were routine. "The EPA was just beginning to open its doors to black professionals when I arrived, so they were really grappling with how to interact with African Americans," she told The Root, adding that her protests were met with accusations of being too sensitive. "But all of that paled in comparison to my problems once I filed a lawsuit."
That 1996 discrimination lawsuit would eventually expose an even grimmer story: an EPA cover-up of deplorable working conditions for South African miners poisoned by vanadium in a mine owned by a U.S. multinational. After she told her superiors about poisoned workers with gruesome ailments, including green tongues and bleeding from every orifice, they showed little concern, ordering her to stop talking about it immediately.
In Coleman-Adebayo's new book, No Fear: The Whistleblower's Triumph Over Corruption and Retaliation at the EPA, she details the pressure, name-calling and death threats that she says she received after refusing to keep quiet. Her testimony in her discrimination case eventually resulted in the passage of the No FEAR Act, which protects federal whistleblowers from victimization.
"I made a commitment to the South African miners and their families that I would tell their stories. I also wanted to do something to stop the abuse and retaliation against people like me who spoke up when we saw wrongdoing," she said of the No FEAR Act. "We passed the law at the same time as 9/11, so there was very little acknowledgment — but this struggle can't continue to be a footnote of history."
A Shocking Discovery
Coleman-Adebayo's assignment in South Africa began with promise. She was selected to be the EPA's White House liaison for the U.S.-South Africa Binational Commission, informally called the Gore-Mbeki Commission. The delegation had the lofty goal of helping the Nelson Mandela government make the transition from apartheid to democracy.
"The goal of the Gore-Mbeki Commission's environment committee, which I led, was to work with the South African Department of Environmental Affairs and Tourism, to help it focus on the needs of people living in townships," she said. "These were extremely poor people who had been so devastated by apartheid."
While she was working with the commission, men and women approached her with stories of an American vanadium-mining company, Union Carbide, where workers were experiencing strange symptoms. Their tongues were turning bright green. They bled from their eyes, ears and genitals. A black substance seeped from their skin. A study conducted later found that vanadium exposure made men impotent.
"Vanadium is an extremely toxic mineral," said Coleman-Adebayo, explaining that it's also highly valuable, used to strengthen steel and found in products all around us. "It undergirds Western society. It's in everything from surgical supplies to forks and knives to airplanes to ovens and refrigerators. It allows us to enjoy the kind of lifestyle that we have in the West. We're using vanadium in smart bombs in Afghanistan — and 80 percent of all South African vanadium comes to the United States. But what people don't realize is that it's the blood of victims in South Africa that provides it."
Horrified, she reported the situation to her superiors. "They told me to shut up," she said. "I had just moved into a new office, and my supervisor said to me, 'Why don't you spend your time decorating your office instead of worrying about all this?' "
As Coleman-Adebayo persisted in drawing attention to vanadium victims, sending letters to then-EPA Administrator Carol Browner, supervisors expressed concern that she identified too closely with black South Africans. "They said I needed to understand who my friends were and which team I was on," she said. "I had to make a choice between black South Africans and a team that could possibly take me to a different place in my career." She was eventually taken off the commission.
The Investigation Begins
Although Coleman-Adebayo no longer worked on African issues for the EPA, she remained with the agency in the Office of Pollution Prevention and Toxics. She also returned to South Africa in 1998 — on a personal trip, using her own funds. She brought along two girlfriends, both African-American doctors, to help further study vanadium poisoning.
They interviewed hundreds of families, many whose relatives had died, capturing their stories on videotape and documenting the recurring symptoms of what locals called "green tongue": kidney and liver failure, asthma, bronchitis and cancers. "We found out that not only were the men in the mines experiencing these terrible environmental impacts, but they brought the vanadium home to their wives and children," she said. "The women were washing the uniforms with their bare hands, with their babies tied to their backs."
She recounts the painful testimony of one mother whose baby daughter shared a bed with her and her miner husband. "Do you mind if I meet your daughter?" Coleman-Adebayo asked.
The woman responded, "My daughter is dead." The team turned off the camera.
"As a scientist, I'm not allowed to make conjecture, so I have to ask you some difficult questions," Coleman-Adebayo said to the woman. "You need to do whatever you need to do to prepare yourself."
The mother walked into her bedroom, closing the door behind her. For several minutes she screamed, howling with "the pain of someone who's been trapped," as Coleman-Adebayo put it. When the woman came back out, the cameras resumed rolling. "I have one question to ask you," Coleman-Adebayo said slowly. "What color was your daughter's tongue when she died?
Through tears, the mother answered. "My daughter's tongue was green."
Retaliation and Triumph
Coleman-Adebayo had already received threatening phone calls from anonymous callers before her South Africa trip, but she says the threats intensified when she returned. "I received death threats and rape threats on my office phone, and one on my cellphone," she said, adding that she warily reported them to EPA security and federal protective services.
"When you suspect that these are acts being committed on the inside, from the people you work for, who are you supposed to call?" she said. "I mean, I made the phone calls, but they were more perfunctory, not from a belief that anything would actually be done."
Coleman-Adebayo's long-pending civil rights complaint, originally filed in 1996, went to trial in 2000. By then her testimony involved a range of allegations, from racist and sexist treatment to the intimidation she faced after uncovering vanadium poisoning in South Africa. She won her case, with a jury awarding her $300,000 in damages.
As a result of the trial, Rep. F. James Sensenbrenner (R-Wis.), chairman of the House Judiciary Committee, and Rep. Sheila Jackson Lee (D-Texas) introduced the No FEAR Act. The law requires federal agencies to pay for awards to whistleblowers for discrimination and retaliation violations out of their own budgets, instead of being allowed to tap a federal slush fund. It also stipulates that all employees undergo training on the issue every two years.
Challenges Still Remain
Changes have also been made to South African mining conditions. "In one vanadium mine, now the uniforms are being washed at the mine instead of having the uniforms brought home," said Coleman-Adebayo. "[On Sept. 30], after my book came out, the EPA issued a toxicological review where they're asking, for the first time, for public comment on vanadium. People might say these are small victories, but in South Africa these actions are being applauded. We celebrate every small victory."
"When the president asked her to genuflect to big business, she did," she said. "Compare that to [former EPA Administrator] Christine Whitman, who I don't think anyone would consider an environmental-justice leader. But when Bush asked her to not promulgate air-quality regulations, she resigned her position. Lisa Jackson has had her hour to choose between her conscience and her job, something that every whistleblower has to choose at some point. Miss Jackson chose her job."
In a September statement regarding her decision to implement a revised smog standard, Jackson defended her record on protecting the health of Americans. "This administration has put in place some of the most important standards and safeguards for clean air in U.S. history," she wrote, citing the reduction of sulfur dioxide air pollution across state borders and the first-ever carbon standards for cars and trucks. "We will revisit the ozone standard, in compliance with the Clean Air Act."
As for Coleman-Adebayo's job, in the end she lost hers. When Obama was elected president in November 2008, he appointed his EPA transition chief: Carol Browner. "I received my termination papers two weeks later," Coleman-Adebayo said.
She has filed a pending wrongful-termination lawsuit in Washington, D.C. A document filed in April by the EPA administrative judge, however, states that the agency had good reason to terminate Coleman-Adebayo. The letter states that, after being allowed to work from home for five years, she was ordered to return to the office — but did not return to work for three years, claiming medical reasons, before she was removed in November of 2008. The case is currently in pretrial, with a court date to be set after the deposition period.
Coleman-Adebayo is now president of the No FEAR Institute in Washington, D.C., a nonprofit committed to defending victims of employer discrimination and ensuring that the No FEAR Act is enforced through partnerships with Congress and victims groups.
When asked why she stayed at the agency for so many years, through a hostile workplace and a protracted discrimination lawsuit, she pauses for a long time. "I stayed because I had the right to work at the EPA," she said. "My father fought in World War II in the U.S. Navy. I decided that I had a right, as an American citizen, to work in the U.S. Environmental Protection Agency. That was a right that my father had sacrificed for, and I was not going to betray my father's sacrifice by allowing anyone to drive me out."
Through the years, she also leaned on her mother's support. "Whenever I would complain to my mother about all these giants I was fighting, she would smile and say, 'These aren't giants. These are grasshoppers.' "
Cynthia Gordy is The Root's Washington reporter.