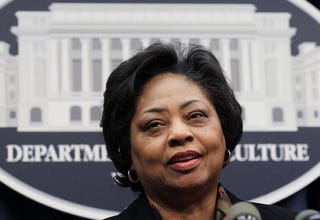 Shirley Sherrod will soon begin working for the U.S. Department of Agriculture again. She will run the Southwest Georgia Project for Community Education, which she co-founded.
The program, Justin Dejong, USDA deputy director of communications, says, "is considered among the best southeastern regional organizations focused on the issues and populations affected by this assessment and has a strong relationship and understanding of the work of USDA."
The Southwest Georgia Project, along with the National Latino Farmers & Ranchers Trade Association and the Intertribal Agriculture Council, will help strengthen relationships between minority farmers and the USDA.
Read more about this story at Politico.
In other news: Luther Campbell and Other Miami Mayoral Candidates Excluded From Spanish-Language Forum.