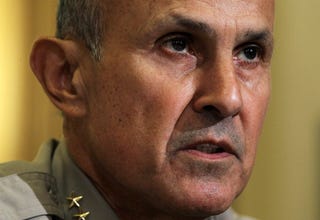 Ex-Los Angeles County Sheriff Lee Baca is being retried on charges that he conspired to prevent the FBI from investigating abusive deputies in his jails, among other charges. Baca's first trial late last year ended in a mistrial when jurors voted 11-1 for the ex-sheriff's acquittal.
The Los Angeles Times reports that prosecutors are emphasizing Baca's relationship with Undersheriff Paul Tanaka in the current trial.
Tanaka was convicted of conspiracy and obstruction of justice charges last April and began serving a five-year sentence at a minimum security camp in Englewood, Colo., last month. Jurors in Baca's retrial were not told about Tanaka's conviction.
As previously reported by The Root, Assistant U.S. Attorney Brandon Fox argued that Baca was at the center of the conspiracy carried out by his subordinates to hide an inmate working for the FBI who sought to prove charges of abuse in the jail system.