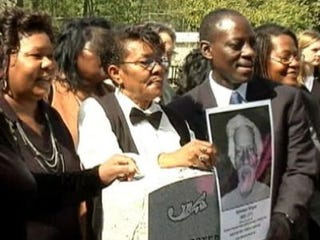 A new monument in Mississippi is honoring the last American slave to die, according to 9News.Com.
For over 40 years, Sylvester Magee didn't have a headstone. Magee, who died in 1971, lived for 130 years, according to historians, and is considered by many to be the last enslaved American to die, as well as the last Civil War veteran.

A small gathering in Foxworth, Miss., was orchestrated earlier this week to see the unveling of the headstone, which contains important and historical details of his life.
"This man deserved it. He deserved everything that he got today," Vice President of the Marion County Historical Society Brandi Perry told 9News.com. "This man went from being, you know, in institutionalized slavery to a free man. He owned land. He owned property, but looking back on what he experienced in his life, it's just fantastic," said Perry.
Many of Magee's family from all over the country came together to witness the historic moment. His granddaughter Estella Muhammad said that she was proud to be a part of this. "I know my mother, her spirit and Poppa are here. It's a wonderful wonderful day for them," she said.
Read more at 9News.com.
Like The Root on Facebook. Follow us on Twitter.