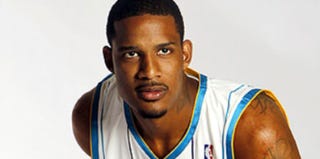 BET News reports that some NBA players are making the most of the league's lockout by using their free time to head back to the classroom.
Five current players have returned to UCLA to take classes toward the completion of their degrees. New Orleans Hornets forward Trevor Ariza, Minnesota Timberwolves forward Kevin Love, Cleveland Cavaliers guard Baron Davis, Milwaukee Bucks forward Luc Mbah a Moute and Oklahoma City Thunder guard Russell Westbrook all say they'll be hitting the books until the lockout is over.
For Kenny Donaldson, the school's athletic assistant director for academic services, this means a rare opportunity to work with a group undistracted by time-consuming basketball obligations. "When the lockout looked like it was going to be a definite thing, I kind of sat down with each of them and laid out a game plan," he said. "You don't want to get them back in something that they're not going to be interested in. I presented them with options and they found classes that they thought would be interesting, and are easing back into it right now."
"Being a regular student is kind of fun," Ariza said. It's safe to say it's not fun enough that these guys will be sticking around to take exams when the season finally begins. Still, as the lockout reminds us just how fleeting an NBA career can be, it's hard to imagine a smarter use of this involuntary free time, however long it lasts.
Read more at BET News.
In other news: VIDEO: Allen West on Gays and Ice Cream.