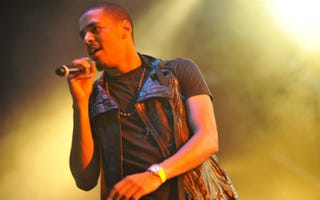 J. Cole, a Jay-Z protégé and relative newcomer to the rap scene, is finally releasing his debut album, Cole World: The Sideline Story, after three highly praised mixtapes and a bevy of guest verses for various artists, such as R&B crooner Miguel and rapper Wale.
Cole mixes heavy beats with heavier rhymes in this studio album, creating a seamless story of personal hardships and music-industry triumphs. He takes samples from an eclectic mix of places, from Paula Abdul to Missy, working in creative elements that are tinged with innovation while also serving as a backdrop for a decidedly classic rhyme game.
J. Cole's Cole World: The Sideline Story is worth a listen by hip-hop aficionados and casual listeners alike.
Previous recommendation: New Movie Showcases Legendary High School Band.
Got ideas for The Root Recommends? Send them to recommendations@theroot.com.