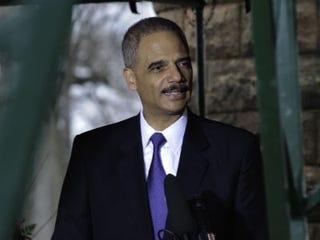 At a South Carolina rally in observation of Martin Luther King Jr. Day, U.S. Attorney General Eric Holder warned the audience that voting rights laws are still at risk and said that aggressive enforcement of those laws is "a moral imperative." The comments came just weeks after the Justice Department blocked a South Carolina voter-identification law that would have made it more difficult for millions of people — mostly minorities — to cast their ballots.
The Washington Post reports:
"The reality is that — in jurisdictions across the country — both overt and subtle forms of discrimination remain all too common," Holder told hundreds of people attending an annual rally to honor the slain civil rights leader, on the steps of the South Carolina State House.
"Protecting the right to vote, ensuring meaningful access and combating discrimination must be viewed not only as a legal issue, but as a moral imperative," Holder said. "Ensuring that every eligible citizen has the right to vote must become our common cause."
The South Carolina law required voters to show a state-issued photo identification card to cast a ballot in an election. Republican supporters said it would prevent voter fraud, but Democratic critics argued that it would make it harder for those without driver's licenses, many of them poor and black, to cast a ballot…
Read more at the Washington Post. 
Like The Root on Facebook. Follow us on Twitter.