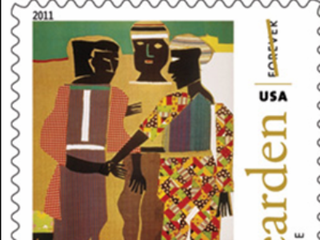 The work of Romare Bearden, one of America's most prolific artists, will be featured on a new set of four Forever stamps dedicated today by the U.S. Postal Service during a first-day-of-issuance ceremony at the Schomburg Center for Research in Black Culture.
Bearden is celebrated for his groundbreaking approach to collage, along with his work in watercolors, oils and other media. The Postal Service selected a different work by Bearden for each of the four stamp designs.
Bearden, who was awarded the National Medal of Arts in 1987, has been praised for depicting the black experience in its full dimensions.
Deputy Postmaster General Ron Stroman described Bearden's work: "Using various materials, such as foil, cut paper, and fabric, Romare Bearden transformed collage into a forceful means of expression with mainstream appeal — and in doing so, he framed the complexities of the African-American experience in a broad historical and cultural context." 
Read more at the Wall Street Journal.
In other news: MJ Murder Trial Starts With Shocking Photo.
Like The Root on Facebook. Follow us on Twitter.