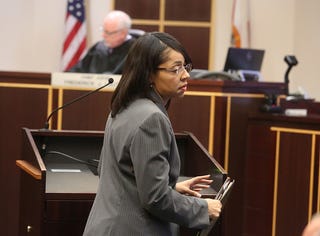 Florida prosecutor Aramis Ayala on Tuesday filed a lawsuit against Gov. Rick Scott after he stripped her office of some 23 first-degree murder cases because she refused to pursue the death penalty.
According to CNN, Ayala, the state attorney for the 9th Judicial Circuit, claims that Scott's decision violated her constitutional rights, marred her reputation and deprived those who elected her "of the benefit of their votes" after he assigned her cases to another prosecutor.
"The governor did not take this drastic step because of any misconduct on Ayala's part, but simply because he disagreed with her reasoned prosecutorial determination not to seek the death penalty under current circumstances," the lawsuit reads.
Currently, 5th Judicial Circuit State Attorney Brad King, who is also named as a defendant, has been handed the cases.
The discord between Scott and Ayala started after Ayala refused to consider the death penalty in two separate high-profile cases involving Markeith Loyd, who is accused of killing Orlando Police Master Sgt. Debra Clayton and his ex-girlfriend Sade Dixon, who was pregnant at the time.