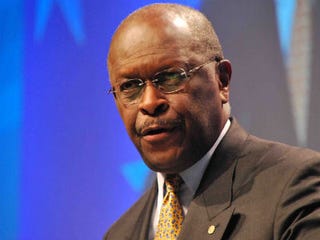 This week, news of the sexual harassment allegations against GOP presidential hopeful Herman Cain has overshadowed comments he made on Sunday's Face the Nation that some might find even more disturbing, since they reflect not what he might have done in the past but what he admits he believes now.
In an exchange with host Bob Schieffer, Cain was asked whether he stood by his previous commentary that Planned Parenthood should be called "planned genocide," and the organization intentionally placed centers in black neighborhoods to "kill black babies before they were born."
His response: "I still stand by that." Asked whether he had any proof, he continued, "If people go back and look at the history and look at Margaret Sanger's own words (in the early 1900s, Sanger formed one of the precursors to Planned Parenthood), that's exactly where that came from. Look up the history … Look at where most of them were built — 75 percent of those facilities were built in the black community."
Time magazine's Steven Gray provided a fact-check of the exchange with data from the nonpartisan Guttmacher Institute:
1. Sixty-three percent of abortion clinics are in neighborhoods where more than half the residents are white; about 9% of abortion clinics are in predominately black neighborhoods
2. Forty-two percent of women who have abortions also have incomes below the federal poverty line — $10,830 for a single woman with no children.
3. White women account for 36% of abortions, compared to 30% of black women and 25% of Latinas.
While Cain is denying that he ever sexually harassed anyone back in the '90s, he's shamelessly endorsing a conspiracy theory that would, without a doubt, guide his policy positions on an issue that would affect the health of American women if he were to become president. Maybe the less sexy — but equally shocking — story about the GOP hopeful deserves some of our attention this week. 
Read more at Time magazine.
In other news: Herman Cain's Scandal Boosts Obama's Chances?
Like The Root on Facebook. Follow us on Twitter.