(The Root) — David "Ziggy" Marley, Bob Marley's oldest son, is best known for his role as the leader of Ziggy Marley and the Melody Makers, but if the reggae heir has anything to say about it, his legacy will be about more than just music.
While he's kicking off a leg of his tour this week at Washington, D.C.'s historic Howard Theatre, what he really wants to talk about is food: specifically, his own line of organic products, Ziggy Marley Organics, and his work as a supporter of the Just Label It campaign, an effort to persuade the federal government to require that foods with genetically engineered or modified ingredients be labeled accordingly.
"If food is labeled, some people might choose to eat stuff that's genetically modified," he told The Root. "They might decide they love it. But give us a choice."
The Root talked to Marley about how his Jamaican childhood informed his perspective on healthy eating, how he balances his music and his activism, and his adamant belief that "the American people are sleeping and need to wake up" when it comes to insisting upon the right to know what we're putting in our bodies.
The Root: It's pretty unusual for a musical artist to get into the food business. How does Ziggy Marley Organics fit in with your career?
G/O Media may get a commission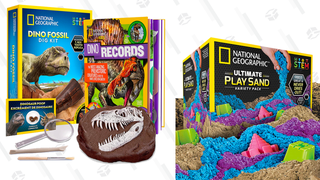 Up to 33% off
National Geographic Science and Activity Kits
Ziggy Marley: It's a tool for a bigger message and a bigger purpose, and it's right up my alley. For me, music, culture and food — it's a whole-body experience. We live in the culture and we have to eat properly, and food is a part of that. Also, it's a part of how I grew up, with healthy eating and healthy food, in Jamaica.
Everything was from the gardens or the farms. We didn't go to the supermarket, growing up — I don't remember seeing supermarkets at all until I was a teenager. We had the garden, we had the ocean and we had the farms. Everything was fresh and everything was organic.
ZM: The important question is, do people have a right to know what they're putting into their bodies? If the answer is yes, then everything should be clear and transparent. If people don't have a right to know, then put nothing on it — no calories, no cholesterol, nothing. But I know we have a right, and that right is important to me.
If food is labeled, some people might choose to eat stuff that's genetically modified. They might decide they love it. But give us a choice. The big thing here is that the people are the lab rats and the guinea pigs.
TR: What do you want people who aren't aware of the debate surrounding the labeling of genetically modified foods to know?
ZM: At some point in time, the politicians decided this issue with the pharmaceutical guys. They decided genetically modified foods didn't need to be labeled. And the American people are sleeping and need to wake up. The problem is disguised in food products — nice-looking hamburgers and nice-looking corn.
I'm sure someone is out there saying maybe it's all the liberals, but this shouldn't be a partisan issue. Regardless of your political party, you should want to know what's in your food. And even if you don't care about the food, you must care about the rights — the right to make choices, and the right to know what you're eating. If not, this could just be the beginning of rights being taken away from people and what people don't have the right to know.
If we don't stand up for this, then what are we going to stand up for? It's an American concept. We have freedom of choice and freedom of religion, and we should have the freedom to know what's in our food.
TR: You're performing at the Howard Theatre this week as the first stop of your tour. What's next for you in terms of music, your food line and activism, and how are you balancing it all?
ZM: We have an album called Wild and Free. We're getting ready to hit the road for a couple of months, on a tour through the U.S. and Canada. I have some other ideas I'd like to explore. I have dreams.
But everything is everything; everything is one thing, so there's no need for balance. My advocacy starts with my everyday life — talking to my friends and neighbors. I don't need to set time apart because my advocacy and my music are intertwined — there's no differentiation between them.
Jenée Desmond-Harris is The Root's staff writer. Follow her on Twitter.
Like The Root on Facebook. Follow us on Twitter.